Trail Builders of Tomorrow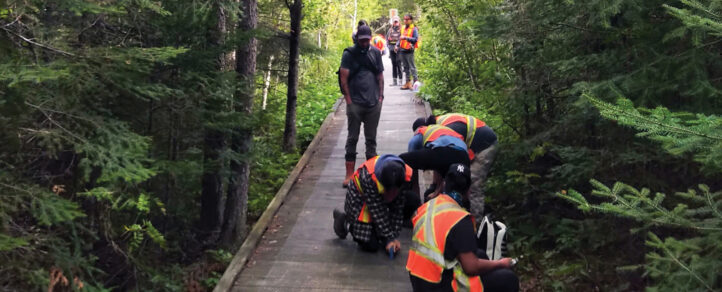 Trail Crew Training at Outland Youth Employment Program  
Outland Youth Employment Program (OYEP) is a six-week program for Indigenous high school students that focuses on land-based training and work experiences. The students live together at a camp, and learn a wide range of skills, including brush cutting, tree planting, wildfire suppression and management of finances. Trans Canada Trail participated in this program by offering a five-day Trail Crew Training experience. Youth had the opportunity to learn in the field; construct trails, overland and overwater boardwalks, and picnic tables; and receive a Certificate in Trail Crew Training. The Trail Crew Training will be offered again in 2022, increasing in number from six camps to eight. 
---
Youth Employment Program
With funding from Parks Canada's Youth Employment and Skills Strategy program, Trans Canada Trail was able to create employment opportunities in the trail sector for youth ages 15 to 30. Over 100 young people across the country were hired as a result of this program, most of whom faced barriers to employment. With funding granted to 42 trail organizations, young people were employed as trail builders, bike valet staff, maintenance crews, communications staff, digital media specialists, trail ambassadors, GIS (geographic information system) staff, accessibility mappers and more. 
Annual Report 2021-2022
Our 2021-2022 Annual Report looks back on the many accomplishments and progress made over the past year, all of which are worth celebrating.