Trail Projects: Prairie Provinces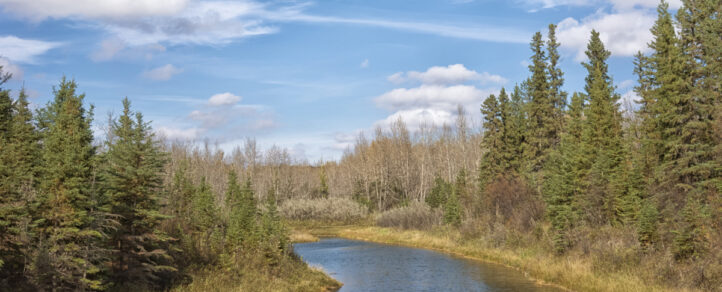 ALBERTA
Fish Creek Provincial Park – Blindsquare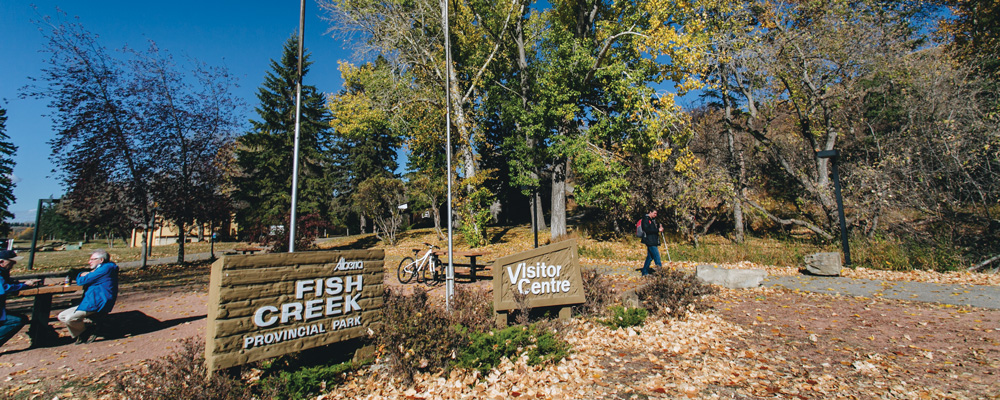 Alberta Parks installed Blindsquare navigation technology at Stream Changes Trail, as well as on interpretive signs, washrooms and the visitor centre.
---
Village of Acme – Roadway Realignment 
The Trail has been rerouted from the main roadway through Acme onto a former railbed. The village has a phased plan to develop the current footpath into a prominent Active Transportation pathway. This project helped to develop a trail access point in the centre of Acme and integrate another rural Alberta community into the Trans Canada Trail network.
---
Lesser Slave Lake Trail – Upgrades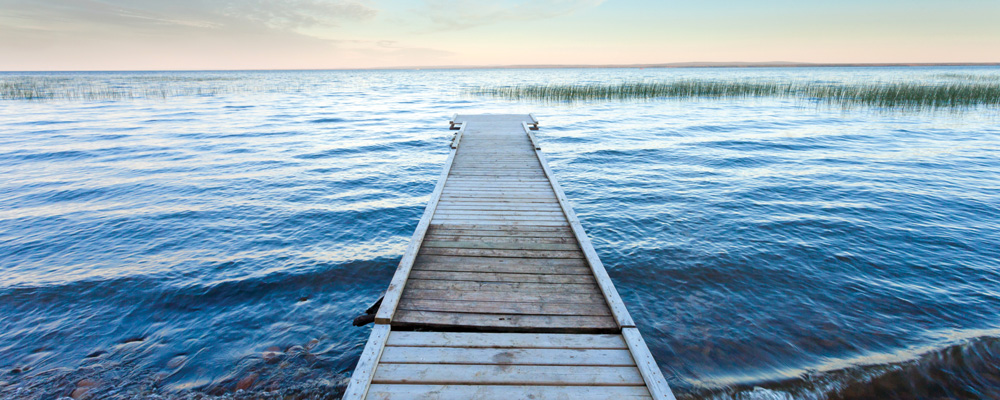 The project upgraded 41 km of the trail, and included improving the drainage along some sections by installing sub-trail piping; widening of the trail, because of the encroachment of vegetation; and the removal of hazards and fallen trees.
---
Cypress Hills Interprovincial Park – Trail Construction 
This project involved the construction of a scenic hiking trail that winds its way through a mix of open grassland and forested hills with fast swooping corners and fun descents and climbs. This resulted in the removal of 5.4 km of roadway.
---
Fort Saskatchewan – Pedestrian Bridge (ongoing project)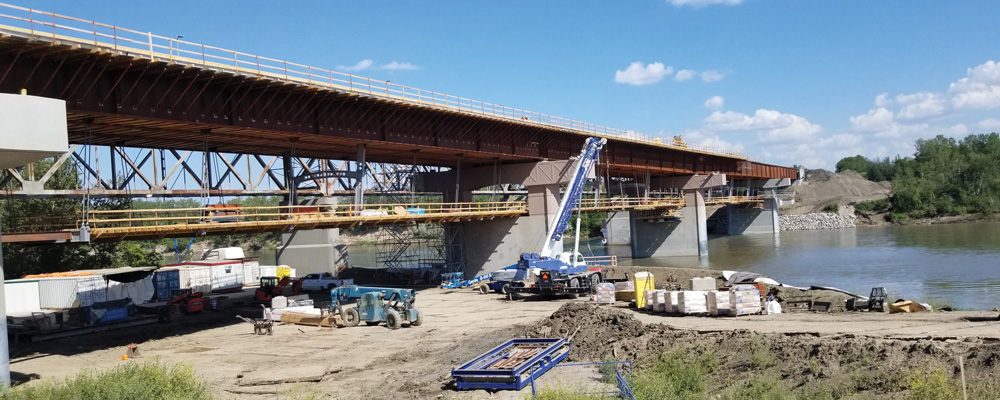 The underslung pedestrian bridge and trail connection is being built in conjunction with the Alberta Transportation Highway 15 Bridge-twinning project. This connects the Sturgeon County section of the Athabasca Landing Trail to the Fort Saskatchewan Urban Trail system. It removes routing on a high-risk roadway and creates a greenway section, and helps to bridge the connection gap between urban and rural municipalities.
---
Airdrie to Calgary – Active Transportation Pathway Study  
This study explored the potential routing along a utility ROW to connect the cities of Airdrie and Calgary, via a multi-use pathway.
---
Town of Innisfail – Safe Railway Crossing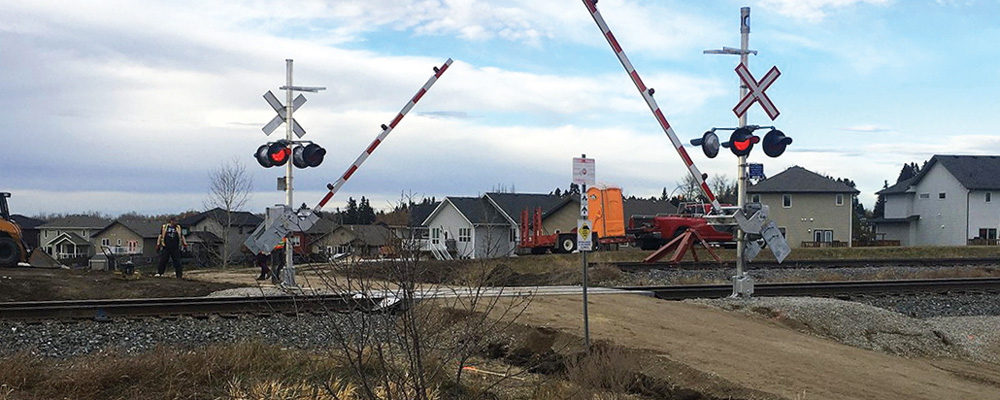 This project installed a safe pedestrian railway crossing and trail leading up to the crossing on both sides, and connects the current Trans Canada Trail routing through the existing Centennial Park paved multi-use trail network. This project replaced some unmaintained greenway and a dangerous roadway crossing. The safe crossing has been completed and trail has been built; the remaining work involves paving the new section of the trail.
---
MANITOBA
Neepawa-Langfort Trail – Roadway Redundancy Removal and Realignment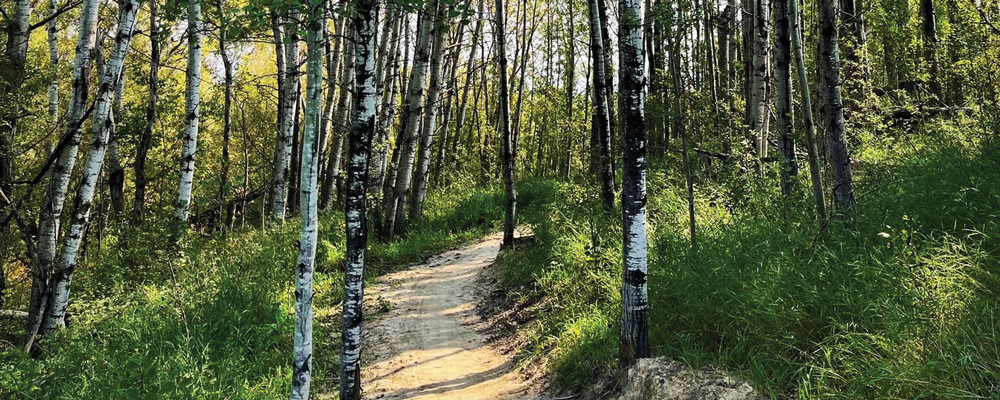 In addition to the removal of a redundant roadway, the Trail was rerouted into a newly developed birch forest walk path.
---
City of Winnipeg – Multi-use Path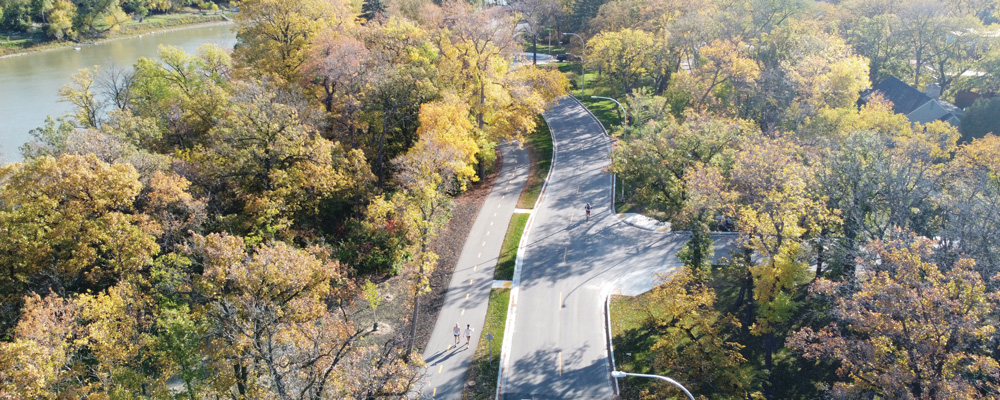 This project resulted in the stabilization of the riverbank and relocation of threatened assets away from the river. Approximately 1 km of greenway was newly constructed as part of a larger infrastructure project. This section of pathway is one of the most well used in Winnipeg, for both active transportation and recreation.
---
City of Winnipeg – Walk Bike Project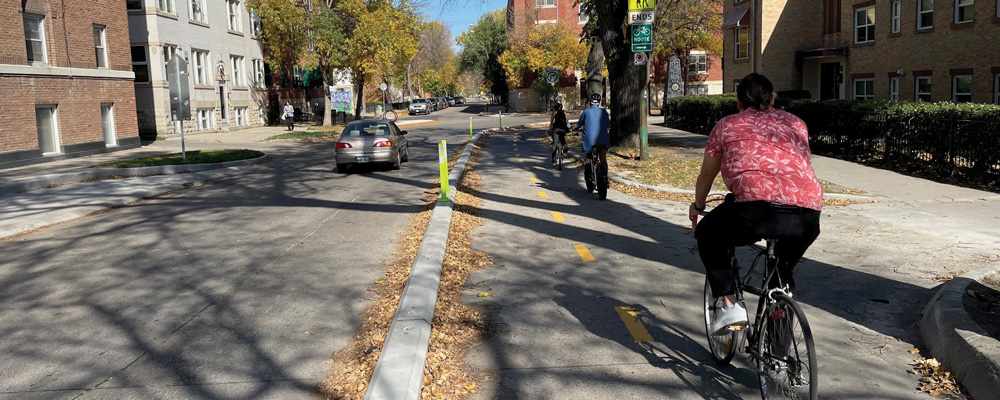 The City of Winnipeg undertook a design study to improve the Trail through the Wolseley and West Broadway neighbourhoods. The project also included upgrading sections of the Trail to protected bike lanes. This section is heavily used for recreation and as an active transportation route.
---
South Whiteshell Trail – Falcon Lake, Trail Connection Study  
This feasibility study mapped the best route around the east end of Falcon Lake to connect the existing Trans Canada Trail routing in South Whiteshell (North and South Shore). The study includes a First Nation Arch Clearance and stakeholder approval. The goal for this trail is to be more accessible to a wider range of physical abilities, but will remain a more remote experience for trail users.
---
South Whiteshell Trail – Meeting Hub and Interpretive Signage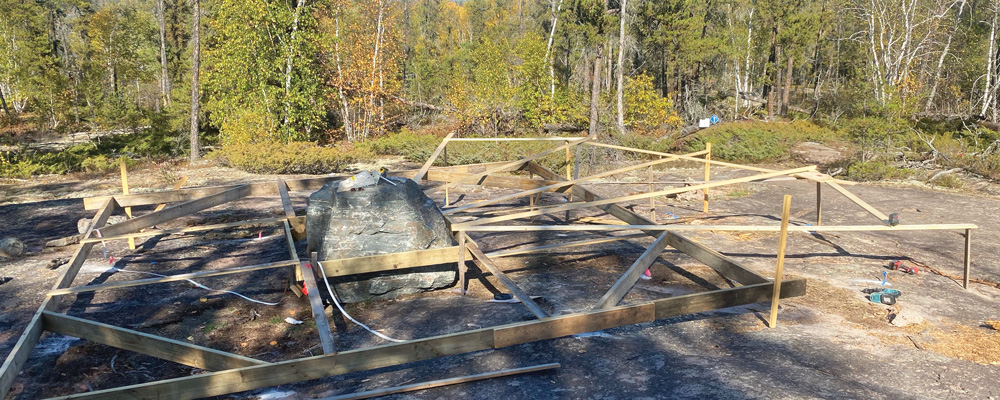 This project provides an access point for multiple Trans Canada Trail routes, a local cycling skills park trail, and a unique outdoor experience on the pre-Cambrian granite shield. The Meeting Hub, complete with extensive interpretive signage, will serve to educate trail users about the Anishinaabe First Nation and especially the 7 Sacred Laws of the People of the Land. The interpretive signage also outlines how special it is to be standing on 3-billion-year-old granite.
---
Red River North Trail – Coca Cola Falls Trail and Bridge Upgrades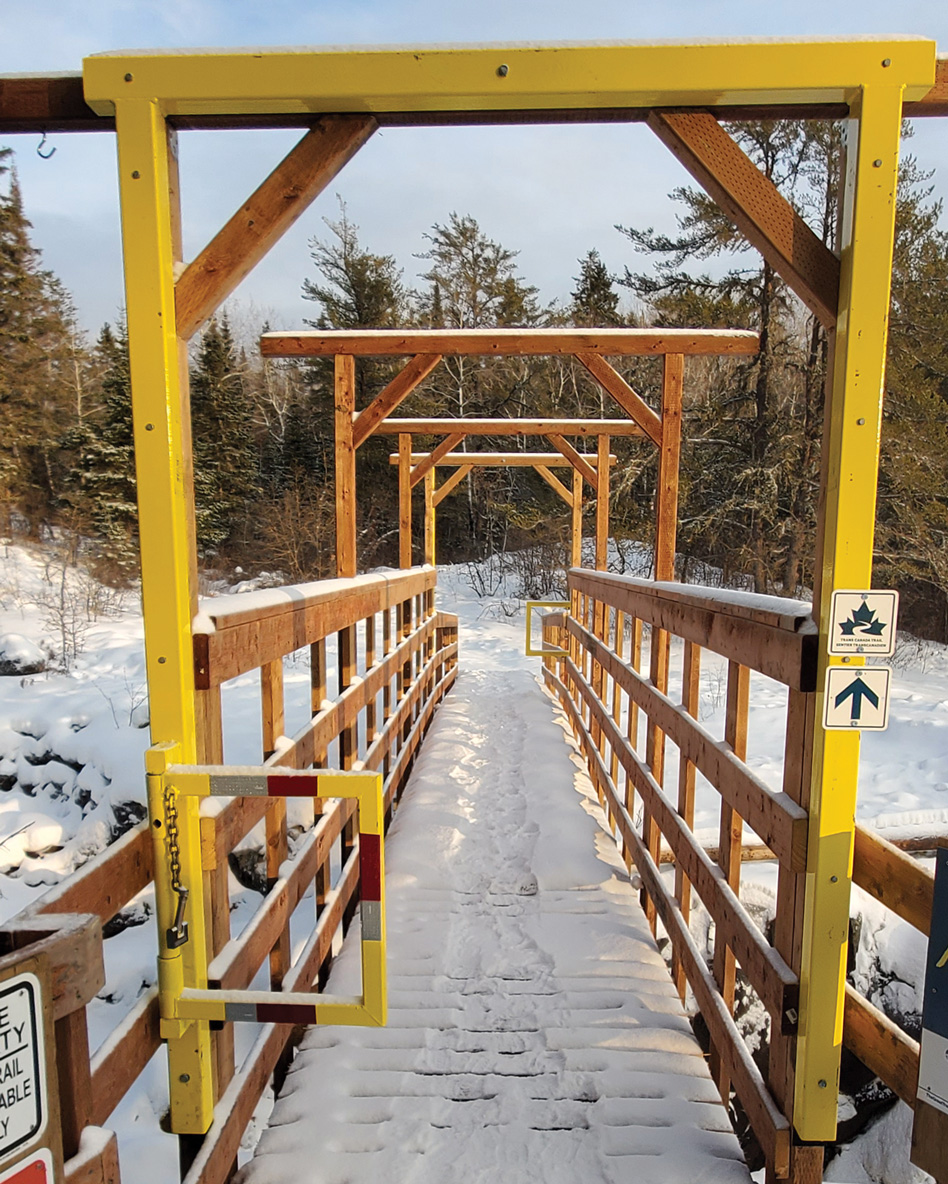 This project was the first of two phases in an effort to improve the usability of the trail for active transportation and to mitigate motorized use in the area. The trail was properly graded and drainage measures were put in place, while the scenic bridge was refurbished and motorized mitigation gates were installed.
---
SASKATCHEWAN
Town of Canora – Realignment      
This project involved realigning 500 m of roadway, from where the Trail approaches the town from the east, to the adjacent footpath.
---
Town of Canora – Trail Upgrades  
This project involved a variety of upgrades to enhance the user experience, including formalizing a 2-km high quality trail to replace the current dirt/grassland footpath, planting trees along the trail to increase shade and prevent erosion, introducing motorized usage mitigation measures, and installing culverts to help reduce washout.
---
Wascana Valley Trails – All-Person Trail and Viewing Area and Trail Rehabilitation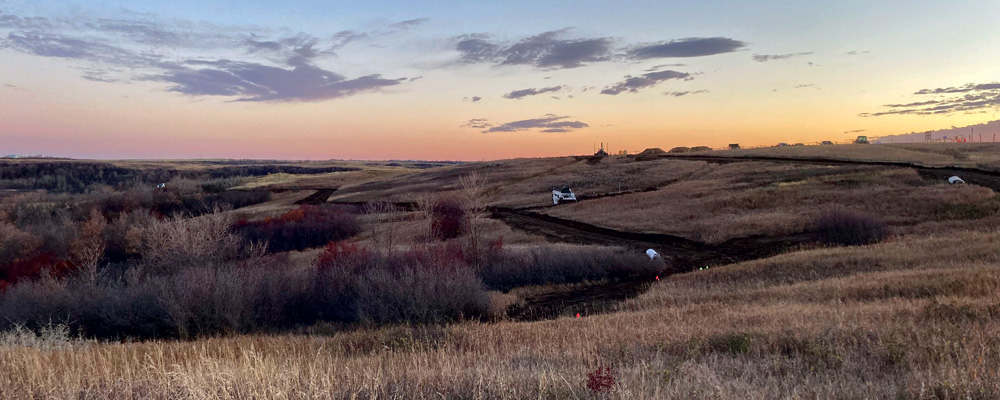 Wascana Trails has a natural land protrusion that extends east from the parking lot to a beautiful vista. This project involved making a 147-metre-long pathway wheelchair accessible and creating an accessible viewing area. Upgrades also included features for those with visual impairments and the creation of an all-person trail loop.
---
Cypress Hills Interprovincial Park – Trail Upgrades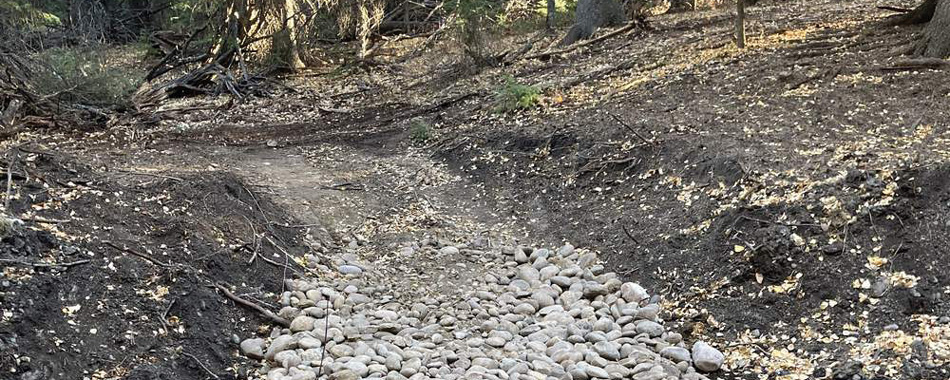 This project was required to upgrade and enhance existing Trans Canada Trail designated sections in the area.  Several trails required refurbishment due to erosion, water damage, clear cutting and heavy usage.  Signage was replaced with pertinent trail information and trail waypoints were created.  Parking areas for trailheads were required due to increased traffic. Trail work also expanded the activities in this area by including a groomed ski trail and a fat bike winter trail.
---
City of North Battleford – Trail Reroute        
This project involved the realignment of 11.15 km of higher risk roadway to 3.3 km of greenway and 2.6 km of lower risk roadway.
---
Lumsden – Saw Whet-Deer Valley – Trail Upgrades  
This project established a new section of greenway in a rural area to remove existing roadway and a closed Trail section. The project involved the creation of a trailhead area, construction of a new greenway, and fabrication and installation of a new bridge over the Wascana River.
---
Northern Village of Air Ronge – Heritage Trail Study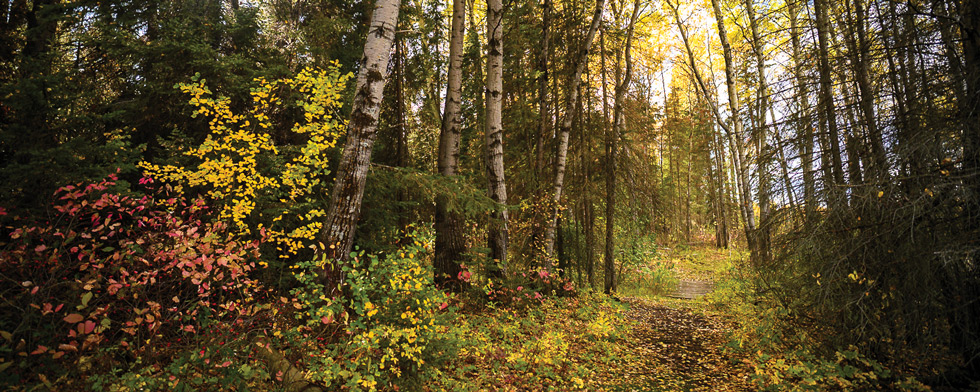 The project involved the study of a newly added remote trail extension in a northern community. With a newly built addictions and mental health facility, as well as planned senior housing, the community wants to make the trail more accessible by adding a boardwalk over sections that are prone to flooding. The trail is just under 4 km and the proposed boardwalk is 1 km. Working in conjunction with the Lac La Ronge Indian Band, there will also be the addition of Indigenous interpretive signage and trilingual wayfinding signage.
---
Many Nations Tourism Corridor – The Voices of Beardy's & Okemasis' Cree Nation – Phase 2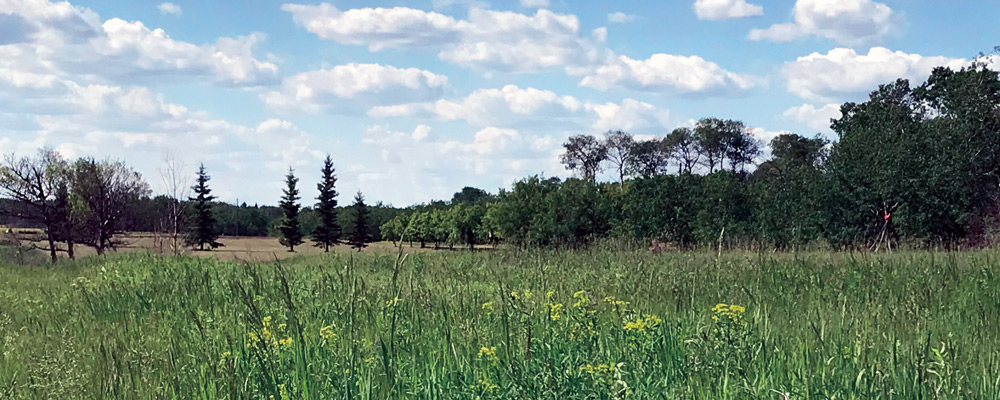 Construction is set to begin on the greenway system being developed at Beardy's & Okemasis' Cree Nation as part of the Indigenous Tourism Corridor. The trail aligns with the historical Carlton Trail and provides visitors with a way to connect to the lands and experiences being developed to tell these stories.  Local Indigenous youth are playing an important role in the trail routing and construction.
---
Annual Report 2021-2022
Our 2021-2022 Annual Report looks back on the many accomplishments and progress made over the past year, all of which are worth celebrating.