Media Preview
Blahs to Ahhhs: Begins January 17, 2022
Getting outside is good for your inside! 
Fresh air, snowflakes sparkling in the sunshine, the sound of boots crunching on the snow, and forging new paths through a winter wonderland – what could be better? Across the country, the Trans Canada Trail is the go-to spot for connecting with nature, and one another.  
This winter, we're inviting Canadians to tap into the feel-good mental, physical and emotional health benefits that come from spending time outdoors, through our second annual Blahs to Ahhhs winter campaign, running January 17 through mid-March 2022. Blahs to Ahhhs will provide resources, expert advice and ideas for activities to help Canadians boost their mental and physical health. 
At the cornerstone of the Blahs to Ahhhs campaign is a live panel discussion scheduled for February. (Details to be announced.) 
Find it all at tctrail.ca/blahs2ahhhs — Begins January 17, 2022! 
Mental, physical and social health
during COVID
The pandemic has brought protracted levels of stress into everyday life, taking a toll on our mental health. Research has shown that being physically active in nature improves mental health and is an excellent antidote for our pandemic-driven stress. As we continue to navigate COVID-19, trails will remain a place for Canadians to safely recreate and connect to nature and one another.  
COVID-19 has changed our world, and trails have become a lifeline for people, giving them safe access to nature and to one another. 
Read more about how Canadians have been using trails: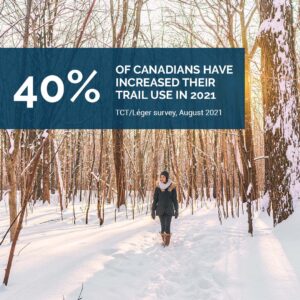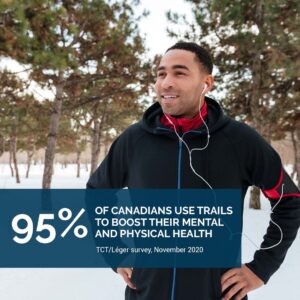 ---
Trans Canada Trail's Blahs to Ahhhs 
Tctrail.ca/blahs2ahhhs 

Begins January 17, 2022
!
Expert panel discussion – details to be announced 
 Stories, videos and expert advice to boost mental and physical fitness this winter 
Tips for winter safety in the outdoors 
Winter scavenger hunt, a contest and fun family activities 
Meet some of our Trail users
---
#Blahs2Ahhhs
---

Find a trail section near you
Winter activities on the Trail include walking, hiking, fat biking, cross-country skiing, snowshoeing and snowmobiling. Check our map to search trail sections by activity.
Take some time to get out on the Trail and transform those winter Blahs to Ahhhs!
---
Take a look at last year's Blahs to Ahhhs campaign
Watch our Blahs to Ahhhs ambassadors and supporters from our 2021 campaign, talking about why getting outside and being active is so beneficial for our mental health. 
(A note on references to "The Great Trail" in this video content: The Trans Canada Trail was formerly known for a short time as The Great Trail, but has returned to its original iconic name.)
See more messages from our 2021 Blahs to Ahhhs ambassadors, including The Hon. Jonathan Wilkinson, then Minister of Environment and Climate Change, and Toronto Mayor John Tory here.

Feeling SAD? 
During a time of year when many people are affected by SAD symptoms, outdoor physical activity and exposure to natural sunlight can help tremendously. When the weather gets colder, we may be less inclined to spend time outside, but we promise you that it's worth it! 
Beating the Winter
Blues and Blahs 
Dr. Katy Kamkar, Clinical Psychologist at CAMH, offers her advice on Seasonal Depression and how to overcome it.
Revisit our Blahs to Ahhhs virtual panel discussion from February 2021 
Trans Canada Trail's President & CEO Eleanor McMahon was joined by Dr. Katy Kamkar, Clinical Psychologist, Centre for Addiction and Mental Health (CAMH), and Mercedes Nicoll, four-time Canadian Winter Olympian, in a conversation on the importance of boosting mental health in the winter. The panel was hosted and moderated by Valerie Pringle, Vice-Chair of the CAMH Foundation Board and then-Chair of the Trans Canada Trail Foundation Board.
---
"There's no such thing as bad weather, only unsuitable clothing."  
— Alfred Wainwright 
---
Resources
Media Contacts
Sonia Prashar
President & Founder, spPR Inc.

T: 416.560.6753
Angela Garde
PR & Communications Manager, Trans Canada Trail

T: 1.800.465.3636 ext. 4358
---
About Trans Canada Trail  
The Trans Canada Trail is the world's longest network of multi-use recreational trails. The Trail stretches more than 28,000 km – and continues to grow – across every province and territory. It's a showcase of Canada's diverse landscapes and cultures, and a sustainable national asset that fosters unity, collaboration and connectedness. Our national trail is managed by local trail groups and partners who work in conjunction with Trans Canada Trail, a registered charity. tctrail.ca