15 September, 2008
Sault Ste Marie donors and trail builders celebrate at pavilion opening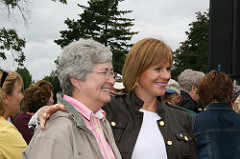 Valerie Pringle, Chair of the Trans Canada Trail Board, and Mayor John Rowswell officially opened the Soo's TCT Pavilion in Clergue Park on Saturday, September 13th.  The event honoured over 800 local donors who contributed to the Trans Canada Trail as well as the work of countless volunteers who helped to build trail in the area.
In her remarks to the crowd, the popular broadcaster reminded everyone that they were "part of a spectacular national endeavour." She went on to say, "I was one of those people who saw the map in Maclean's magazine when they first started to talk about the Trans Canada Trail. When I saw that little red line I thought 'how fabulous it that!'"
The Saulteaux Club of the Voyageur Trail Association is responsible for the building and maintenance of the more than 60 kilometres of trail in or near the city. Club President Gayle Phillips was happy to see seven years of work come to fruition, praising the Mayor's vision and city council's support of the project. The Saulteaux Club holds over 30 public outings annually.
To view video footage of the day's events, please visit YouTube.

For more photos, visit our Gallery.[:]