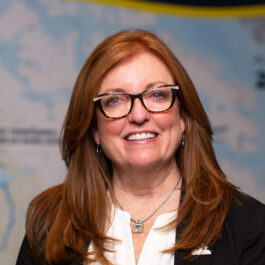 Eleanor McMahon
President & CEO
Trans Canada Trail
Eleanor McMahon has over 30 years' experience within the private, public and non-profit sectors. She spent the early years of her career working on Parliament Hill, including as press secretary to the Rt. Honourable Jean Chrétien. Later, she brought her consensus-building know-how to a variety of other roles, including Director of Public Affairs at the Canadian Advisory Council on the Status of Women, Vice-President at the Canadian Chamber of Commerce and Vice-President at United Way Ottawa. She was elected the MPP for Burlington from 2014 to 2018, and served as Ontario's Minister of Tourism, Culture and Sport, as well as President of the Treasury Board.
A passionate advocate for the safety of cyclists, Eleanor founded the Share the Road Cycling Coalition in 2008. Under her governance, this grassroots organization united cycling groups across Ontario to make communities more bicycle-friendly, and pressed the Ontario government to toughen the law regarding individuals who drive while suspended. In addition, she steered the movement that resulted in the launch of #CycleON, Ontario's first bicycle policy update in 20 years. While in office, she was instrumental in two other legislative safety measures: Ontario's One Metre Safe Passing Law (2015) and legislation strengthening the Careless Driving provisions of the Highway Traffic Act, creating Canada's first Vulnerable Road User penalties in 2017. That same year, she announced a $100 million investment in cycling infrastructure in several communities across Ontario.
Eleanor joined Trans Canada Trail in 2020.
Email: ceo@tctrail.ca