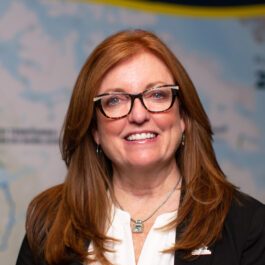 Eleanor McMahon
President & CEO
Eleanor brings more than three decades of experience within the private, public and non-profit sectors to her role as President & CEO of Trans Canada Trail. Energetic, decisive and people-focused, she leads a nationwide team responsible for building, maintaining and stewarding the world's longest trail network, through partnerships and collaboration with stakeholders from coast to coast to coast.
Eleanor honed her skills as a consensus-builder on Parliament Hill, in a variety of roles including press secretary to the Rt. Honourable Jean Chrétien. Fluently bilingual (English and French), she later held leadership positions with the Canadian Advisory Council on the Status of Women, the Canadian Chamber of Commerce and United Way Ottawa.
In 2008, and in memory of her husband who was killed in a tragic cycling collision, she founded the Share the Road Cycling Coalition, a provincial cycling advocacy and public policy organization working to build a bicycle-friendly Ontario and lobby for legislative and road safety reform. She was elected the MPP for Burlington, Ontario, from 2014 to 2018, and served as Ontario's Minister of Tourism, Culture and Sport, as well as President of the Treasury Board. She has been instrumental in updating Ontario's bicycle policy and strengthening legislation to protect cyclists on shared roadways.
Eleanor believes in the power of the Trans Canada Trail to help us connect with nature and with one another while enhancing health and well-being through time spent outdoors. She enjoys the vibrant urban landscapes of the Waterfront Trail near her home in Burlington, Ontario, and is inspired by the many ways the Trail reflects the diversity and beauty of communities across Canada.