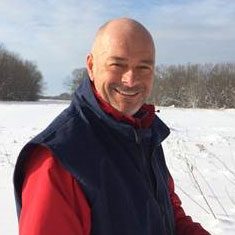 Eric Gionet
Director, TCT Board
New Brunswick
Eric first joined the Trans Canada Trail Board in 2011, and following a one-year hiatus rejoined the Board in September 2018. He is a dedicated user of both land and water trails, an advocate for the well-being of animals and the environment, and a promoter for healthy active living through trails, waterways and outdoor activities.
Recently retired, Eric was a past Director at the New Brunswick Social Policy Research Network, and had many years' experience working at the senior management level in various government departments for the Province of New Brunswick. Additionally, he has consulted on a number of federal and provincial committees in the development and implementation of social programs, policies and guidelines, and was a part time lecturer for over 20years at Saint Thomas University in the Faculties of Social Work and Gerontology.
Eric holds a Bachelor of Social Work degree from Ryerson University and a Master's Degree in Adult Education from the University of New Brunswick. He is very involved in his community and has donated his time and expertise to many social agencies including, United Way (past president), Greater Fredericton Social Innovation (founding member) and Leadership Fredericton (past president), and is a past member of Rotary International. He currently serves as the lay person on the Board of the New Brunswick Optometrists Association.
An avid runner, he has completed several Boston marathons along with many other marathons, is a member of the Capital City Road Runners, and pursues various athletic interests, including mountain biking and kayaking.
Eric lives in Fredericton with his wife, Dr. Gabriela Tymowski, who also enjoys the use of the beautiful Maritime trails along with their two dogs, Robbie and Tess. He has three adult children who share his love for outdoor activities, as well as a great appreciation for music. Eric has been a long-time volunteer stage manager with the Fredericton Harvest Jazz and Blues Festival. He is a strong supporter of arts and cultural events, and local public libraries.
Eric joined the Trans Canada Trail Board in 2011.