14 January, 2022
3 Tips for Beating the Winter Blahs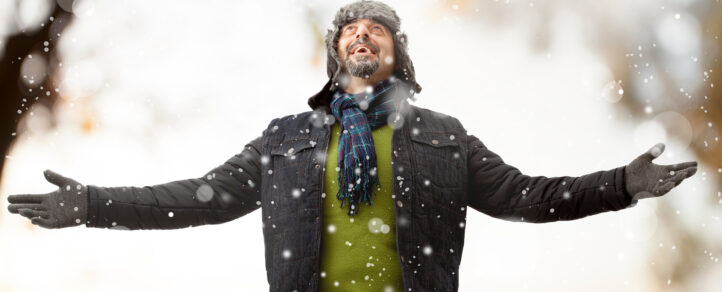 We've all been there – shivering in bitterly cold temperatures, craving indoor comforts and wishing summer would come faster. While winter is one of the most beautiful times of year in Canada, the deep freeze can trigger feelings of fatigue, sadness and even loneliness. Meet the winter blues/blahs, or seasonal depression. 
This year, the feelings we experience with seasonal depression may be even more pronounced as we continue to deal with the pandemic. 
The good news? These negative feelings can be eased, and even avoided, with a few simple lifestyle changes. It's all about getting outdoors, staying active, nurturing positive relationships and being present in the moment. Read on, watch our video and discover how to turn those winter #Blahs2Ahhhs! 
---
---
1. Embrace the cold and get physical
The pandemic has brought protracted levels of stress into everyday life, taking a toll on our mental health. Research has shown that being physically active in nature improves mental health and is an excellent antidote for our pandemic-driven stress. As we continue to navigate COVID-19, trails will remain a place for people to safely recreate and connect to nature and one another. 
While the temperatures may be falling well below -15 C, that doesn't mean that outdoor adventures are always off-limits! You'll find plenty of ways to enjoy the Trans Canada Trail and beat the winter blues, even when it's below freezing. The key to this is wearing adequate clothing and choosing activities that suit your interests and physical fitness. As the oft-quoted Norwegian saying goes: "There's no such thing as bad weather, only bad clothing!"
---
2. Practice mindfulness
Beating the winter blues isn't about distracting yourself from the weather and battening down the hatches. It's about changing your attitude to winter and appreciating what this season has to offer. 
For many of us, the Trans Canada Trail is an outdoor gym – a place to improve our physical fitness while discovering Canada's incredible landscapes. But did you know that the Trail also offers an opportunity to take care of our mental health?  
Activities like mindful walking in the outdoors can help free our minds from "mental clutter" and everyday stress. For some, it helps to instil a sense of inner calm; for others, it can offer solutions to problems that might seem daunting. 
Set aside 5 to 20 minutes for a meditative walk. This activity will help you appreciate your wintry surroundings, take your mind off any stress you're feeling, and help you connect with nature and your body.
---
3. Capture winter beauty with a camera 
It may be cold outside, but the arrival of frost, ice and snow does something magical to Canada's already magnificent landscapes. Grab your camera or smartphone and let nature inspire you in capturing these incredible vistas in photos. You'll feel those winter blues melting away. 
Unleashing your creative side with photography – or any other artistic hobby – can be a wonderful way of staying positive in the darkest of times. Whether you're looking for the perfect shot to frame for your living room, or just a stunning snap for Instagram, many Trail locations offer spectacular scenery for avid photographers.  
The COVID-19 pandemic had an unanticipated silver lining for Scott and Trevor Haldane: it sent father and son outside to explore their incredible natural surroundings. There, Scott and Trevor discovered a shared love for amateur nature photography – often on the Trans Canada Trail – and they formed a stronger bond in the process. Check out their online photography presentation showcasing wildlife, landscapes and stories from across Canada. 
---