29 March, 2018
5 places where you can improve your French on The Great Trail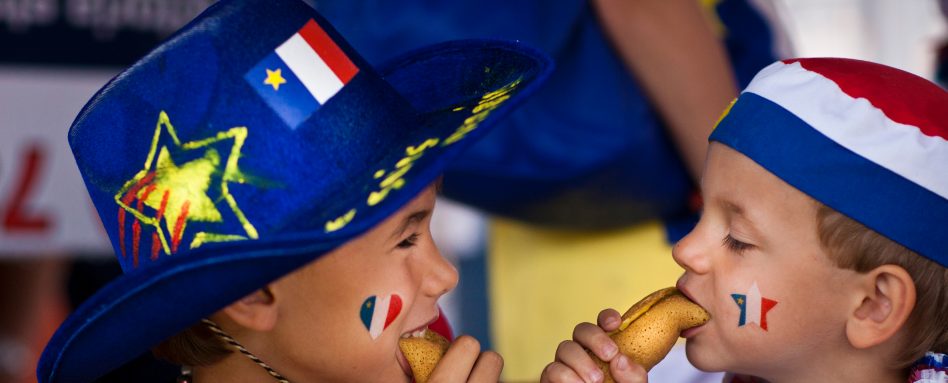 Did you know that training your brain by learning new languages can be just as important as physical exercise? The benefits of practicing a language like French are numerous, and there are plenty of opportunities to immerse yourself in francophone communities on The Great Trail!
Leave the grammar textbooks at home and discover the joie de vivre of these communities across Canada.
Photo: Quebec Original
1. Quebec City and Montreal
As the province with the highest proportion of French speakers in Canada, Quebec is an ideal starting point for anyone seeking to learn "quelques mots"! The Great Trail takes you to the beating heart of this proud but welcoming community by passing through the cities of Montreal and Quebec.
The trendy Plateau-Mont-Royal neighbourhood in Montreal is ideal for practicing your French, especially in its gourmet restaurants and hip art galleries. Meanwhile, those who want to experience soak up the language and culture of this province will be enthralled on the cobbled streets of Quebec City.
Find the Trail: Axe Christophe-Colomb, Corridor du Littoral
Photo: Tourism New Brunswick
2. New Brunswick
While the French-speaking Acadian settlers in New Brunswick were forced out of the province in the 18th century, their language and culture live on to this day. Learn more about this fascinating community at the Musée Acadien de l'Université de Moncton, before venturing downtown for some tasty poutine râpée (meat-filled potato dumplings) or hearty fricot au poulet (chicken stew).
Meanwhile, the city of Edmundston is the Trail's gateway to the francophone Madawaska region, where visitors can experience fantastic natural beauty, as well as traditional buckwheat pancakes called ployes.
Find the Trail: Parc linéaire interprovincial Petit Témis, Riverfront Trail, Sentier de l'Étoile
Photo: Tourisme Laurentides
3. The Laurentians
Looking to hear spoken French in a more rural setting? Explore the Laurentians on foot, by bike or even on skis and discover the francophone villages nestled among the mountains.
Le P'tit Train du Nord, a 236-kilometre linear park between Bois-des-Filion and Mont-Laurier, is located less than an hour away from Montreal and takes you past stunning landscapes and through quaint and welcoming villages. Stay on this Trail section for a weekend, while taking rest stops at the many art galleries, B&Bs and brasseries along the way.
Find the Trail: Parc linéaire Le P'tit Train du Nord
Photo: Tourisme Winnipeg/Ginette Manaigre
4. St. Boniface
Walk across Esplanade Riel in Winnipeg and you'll discover the largest French-speaking community west of the Great Lakes! The historic neighbourhood of Saint Boniface has existed since 1818, and originally served as a cultural and religious centre for the Red River colony's French and Métis inhabitants. This district was also the birthplace of Louis Riel, the Métis leader who later became a founder of the province of Manitoba.
Today, both anglophones and francophones will be charmed by the numerous monuments, bookshops and boulangeries along the Trail in this corner of Winnipeg.
Find the Trail: Winnipeg Trails
Photo: Ottawa Tourism
5. Ottawa 
As the nation's capital, Ottawa reflects the bilingual nature of Canada and its many communities. Follow the Trail to Parliament Hill, which offers guided tours in both French and English. In these majestic buildings, you'll find some beautiful national treasures like the House of Commons and the Library of Parliament.
If practising your French has helped you work up an appetite, be sure to visit the ByWard Market. There, you'll find many French-speaking local food producers and retailers who will be happy to offer you some tasty treats!
Find the Trail: Capital Pathway, Sussex Drive Spur, Rideau Hall
Where do you speak French on The Great Trail? Tell us via Facebook, Twitter and Instagram!