3 December, 2020
Cross-Country Skiing for Beginners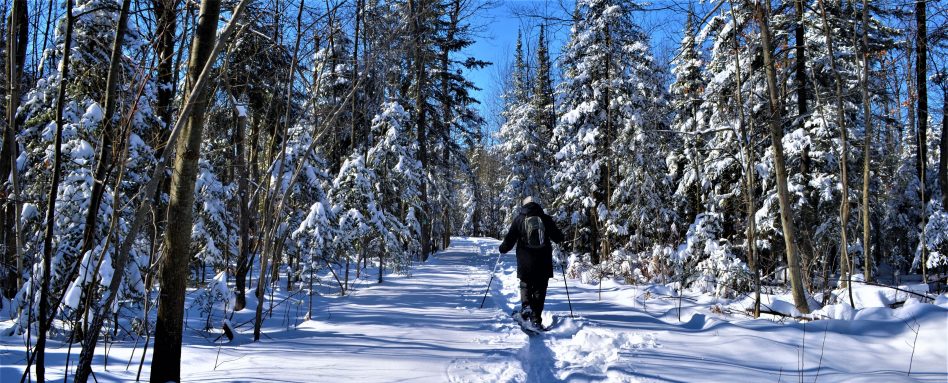 The snow will soon be here, or maybe you've already welcomed some winter weather in your area. With 27,000 kilometres of trails across the country, the Trans Canada Trail offers tons of opportunities for you to get, and stay, active. 
A fun way to explore through the winter months is by cross-country skiing. If you're new to the activity here are some tips to get you started!
---
Find local spots that meet your needs
When starting out it's a good idea to look for groomed trails that are relatively flat. You don't want to have to worry about navigating hills and speed while you're learning! To find spots near you that may fit the bill enter your location on this map of the Trans Canada Trail.
Gear up with the right equipment
Before you head out you'll need to equip yourself with a pair of skis and poles at a minimum. Both are typically available for rental as well as purchase, so you can decide what works best for you. Sizing for both is key for manoeuvrability, comfort and safety. Check in with a local ski shop or group for assistance in making your choices. 
Clothing
It may be cold outside but you'll probably work up a sweat while you're cross-country skiing. Dress in layers that are suitable for outdoor activity. Think moisture-wicking, wind resistant layers so you can add and remove clothing as needed. Don't forget about your feet, hands and head! Options that are waterproof may come in handy on certain days or in particular types of weather conditions as well. 
---
---
Connect with local groups and people who know the ropes
Wherever you find cross-country skiing, you'll find cross-country skiing enthusiasts. These people can be a great source of information and inspiration as you glide your way into the sport they love. Check in with local groups – in person or online – and consider their tips and tricks to be sure you get started on the right foot.
Practice, practice, practice
They say practice makes progress and that's certainly true when trying a new sport. Be patient with yourself, take a lesson or two, ask experienced skiers for tips, make sure you're being safe, and most of all – HAVE FUN!
---
Make the most of winter – see you on the Trans Canada Trail!
---
With your continued support, TCT looks forward to working with more Trail groups as they repair damage on their sections of the Trans Canada Trail. Discover how you can help by visit our Give page.