04 December, 2017
Mastering the Art of 'Wintering': 7 Rules for Beating the Winter Blues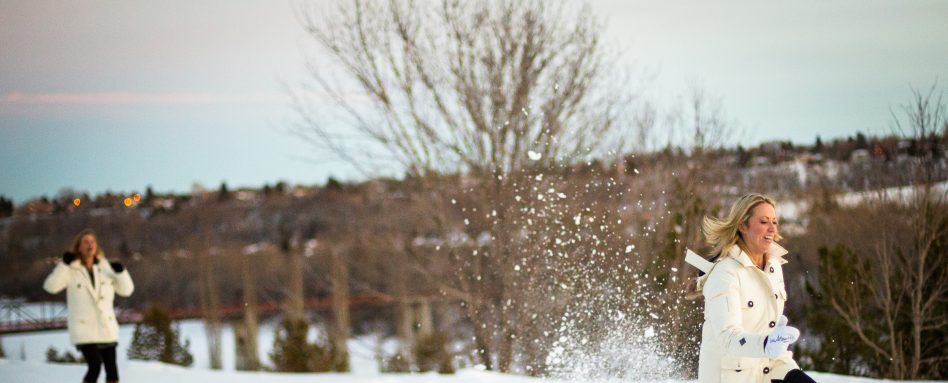 We've all been there – shivering in bitterly cold temperatures, craving indoor comforts and wishing summer would come faster. While winter is one of the most beautiful times of year in Canada, the deep freeze can trigger feelings of fatigue, sadness and even loneliness. Meet the winter blues, or seasonal depression.
The good news? These negative feelings can be eased, and even avoided, with a few simple lifestyle changes. It's all about getting outdoors, staying active, nurturing positive relationships and being present in the moment! Read on, watch our video and discover how to beat the winter blues.
1. Banish the Winter Blues by Fostering Healthy Relationships
One of the best ways of dealing with the winter blues is accepting a simple fact – you don't have to do it alone. Whenever you're feeling down, reach out to loved ones and beat those negative thoughts together.
When Norway's notoriously long winters plunge much of the country into darkness, locals make a special effort to go outside with friends and family, or catch up with a warm beverage in front of a warm, open fire. The very act of talking to someone you trust is proven to lessen worry and help you to gain new perspectives on the cold weather.
Hit your nearest Trail section with a group of buddies for some winter adventures. Alternatively, opt for a post-hike get-together at home – complete with hot chocolate, fuzzy blankets and great company!
2. Practice Mindfulness in the Great Outdoors
Beating the winter blues isn't about distracting yourself from the weather and battening down the hatches. It's about changing your attitude to winter and appreciating what this season has to offer.
Set aside 5 to 20 minutes for a meditative walk. This activity helps you appreciate your wintry surroundings, takes your mind off any stress you're feeling, and helps you connect with nature and your body. The best part? It can be done anytime – whether you're walking to work, the store or simply strolling on the weekend.
Looking for the Trail section in your city for a mindful morning commute? Toronto's epic Waterfront Trail, Montreal's stunning Lachine Canal and beautiful David Foster Way in Victoria are just some of the oases of calm in Canada's urban landscapes.
3. Halt the Winter Blues by Embracing the Cold!
The temperatures may be falling well below -15oC, but that doesn't mean that outdoor adventures are always off-limits! You'll find plenty of ways to enjoy The Great Trail and stop the winter blues, even when it's below freezing. The key to this is wearing adequate clothing and choosing activities that suit your interests and physical fitness. As the oft-quoted Norwegian saying goes: "There's no such thing as bad weather, only bad clothing!"
Slip into your brand new KEEN snow boots, don plenty of layers and cover up with your favourite winter coat to protect yourself from the elements. After that, it's easy! Keep moving, feel your blood pumping and breathe in the crisp air. Few things are better for halting the winter blues than this simple activity.
4. Capture Winter Beauty with a Camera – or a Paint Brush!
It may be cold outside, but the arrival of frost, ice and snow does something magical to Canada's already magnificent landscapes. Grab your camera or smartphone and let nature inspire you to capture these incredible vistas in photos. You'll feel those winter blues melting away.
Unleashing your creative side with photography – or any other artistic hobby – can be a wonderful way of staying positive in the darkest of times. Whether you're looking for the perfect shot to frame for your living room, or just a stunning snap for Instagram, many Trail locations offer spectacular scenery for avid photographers. Here's what storm chaser Mark Robinson has to say about shooting outside.
5. Start Your Winter Adventures with Snowshoeing
It's been said plenty of times: if you can walk, you can snowshoe. This simple activity is fun for all the family, helps boost your endorphin levels and is a wonderful way of enjoying our snowy landscapes. Better yet, it's an enjoyable activity that doesn't require too much equipment.
What's more, snowshoeing is an ideal activity on most Trail sections throughout Canada. The Kananaskis Country Trail outside Calgary, le P'tit Train du Nord in Quebec and Pine Lake Trail in Yukon are just a few examples.
6. Get the Ultimate Winter Workout with Cross-Country Skiing
If you're looking for more intensity from your winter fitness routine, try cross-country skiing. For this activity, you'll need specific skills and more equipment than snowshoeing. However, this activity is one of the best forms of aerobic exercise you can get in winter, and helps to drive winter blues away.
Not only is cross-country skiing a great full-body workout, it is also one of our favourite activities on the Trail! Grab your skis and try out the Celtic Shores Coast Trail in Nova Scotia, the Hamilton to Brantford Rail Trail in Ontario or the Cowichan Valley Trail in British Columbia.
7. Experience the Canadian Tradition of Dogsledding

Fewer activities are more emblematic of a Canadian winter than dogsledding. This ancient method of travel, where a sled is led by two to twelve hunting dogs, was first developed by Indigenous communities in snowy weather, and later adopted by European explorers.
This proud tradition lives on in many parts of northern Canada, and is a rip-roaring way of seeing the country's wildest and most remote regions. It's not all about need for speed though – for many "mushers", it's about the bond they have with their powerful race dogs.
The Dawson Overland Trail north of Whitehorse Yukon is an ideal place to get started.
How do you keep the winter blues at bay? Share your suggestions with us on Facebook, Twitter and Instagram!