29 March, 2017
The Great Trail a Conduit for Fitness, Fresh Air and Family Bonding for Pataki Family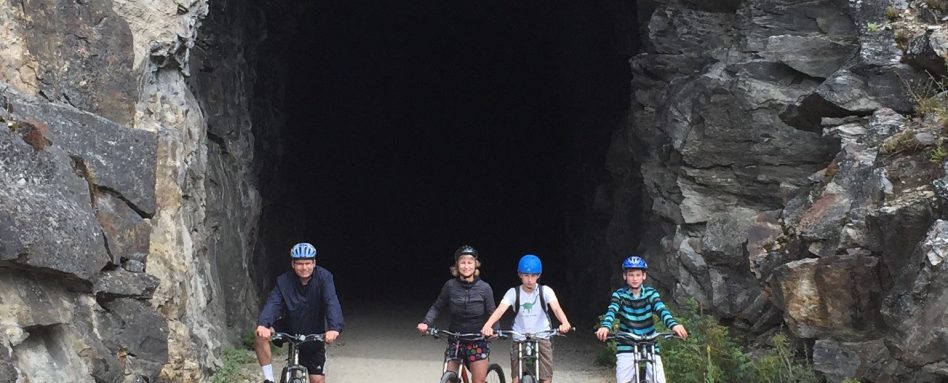 Why would Canadians go hiking in Europe when The Great Trail is at our doorsteps — for free?
This question flummoxes Penny Pataki, an enthusiastic advocate for Canada's Great Trail.
Penny, a special education teacher in Langley, British Columbia, practices what she preaches by organizing family outings to explore Canada via the Trail.
"We've done two of three coasts!" says Penny, who also jogs three to four mornings a week along the Langley Township Trail and elsewhere. "The Great Trail always pays it forward, with fitness benefits and family bonding time out in nature. My two boys love it. Last time we were on the Trail, they videoed the fog coming in. They were fascinated."
Atlantic Adventure
In 2012, the family visited Atlantic Canada, starting in St. John's, Newfoundland. They hiked along a lake in Terra Nova National Park, and enjoyed the Newfoundland T'Railway Trail.
"We kayaked and foraged for berries. We even saw a baby moose," recalls Penny, who insisted the boys leave their electronics at home. It paid off. "At first, the boys grumbled, but we hiked every two hours and there were no distractions, so we were 'in the moment'. Everyone was very happy."
In New Brunswick, they ate lobster and walked the Fundy Footpath. The Patakis stopped to observe an eagle's nest and marvel at the red spruce trees. They were on a migratory route with semi-rain forest terrain, so there was plenty of plant life and wildlife to spot.
"In P.E.I., we went to Tignish at the top of the island and hiked down," says Penny. "It was the first time we'd seen so many windmills! The red sandy terrain was also new for the boys."
Westward, ho!
Two years ago, the Patakis took the boys bicycling on the Kettle Valley Rail Trail near Kelowna, British Columbia.
"The Trail is five hours from their home, so it was a nice, short trip. "We saw trestle bridges and worked up a great appetite along the Trail."
Penny and Frank committed to showing their sons Canada because it's important to have what they call 'an anchor' of knowledge about their country.
"We invest in cultivating this feeling of connectedness along the Great Trail in our kids," says Penny. "We have our piece of Canada now."
For Frank, an engineer at FortisBC, the Trail is also a great way to decompress after work.
"I can unplug after a busy week and get fit," says Frank, who is proud that FortisBC has donated to the Trans Canada Trail. "It's like our Great Wall of China."
Generation to Generation
A feeling of satisfaction washed over Penny and Frank when their eldest son signed himself up for Outdoor Education in high school this year. Clearly, all the time the family spends on the Great Trail made an impact.
"I'm so happy he values being outside, in nature," says Penny. "Hopefully, he'll pass that along to his kids one day."
Penny just returned from a trip to Ottawa and Montreal, where she hiked up to 21 km a day, some of it on the Trail.
"With the mobile app IOS and Android," she notes, "it's so easy to hop on the Trail, wherever you are."
---