23 January, 2007
North Vancouver Pavilion Opening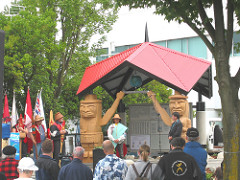 North Vancouver Pavilion Opening
Photo courtesy of David Turner.
The Friendship Pavilion opening ceremonies with members of the Squamish Nation on hand to bless the totem poles. Darren Yelton, of the Coast Salish Nation, carved and later painted both totem poles. He has been carving since the age of thirteen and is a now a successful free-lance artist.