11 April, 2012
Thursday, April 12: Trans Canada Trail hiker Dana Meise kicks off new season in Winnipeg, Manitoba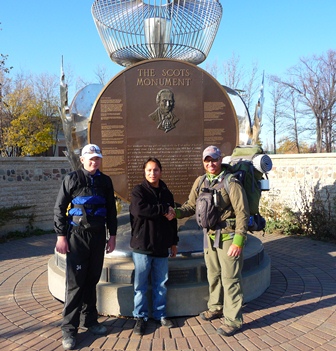 Come on out at 9:00 am Thursday, April 12 and enjoy a stroll along the Trans Canada Trail with Dana Meise as he begins the 2012 leg of his hiking journey from coast to coast to coast.
Join Jim Rondeau, Minister for Healthy Living, Seniors, and Consumer Affairs and 50 students from Wayoata Elementary School as they escort Dana to the Legislative Building where there will be an official send-off to start Dana "on the right foot" as  he travels through Manitoba.  Stay to enjoy some light refreshments and a few of Dana's extremely entertaining stories about life on the Trans Canada Trail.
Schedule: Thursday, April 12th 9:00 am – 11:00 am
9:00 am Meet at The Forks Market Pavilion. The route travels the Trans Canada Trail along the Riverwalk, up the stairs to the Legislative Building, then circles and enters the Legislative Building at the Broadway entrance.
9:15 am Departure from the Forks
(photo-op)
9:45 am Guests arrive at The Legislative Building Rotunda for refreshments
9:55 am Emcee and Trans Canada Trail Board Member Ruth Marr welcomes guests and introduces Healthy Living Minister Jim Rondeau
10:00 am Minister Rondeau speaks
10:10 am Ruth Marr thanks Minister Rondeau and introduces David King, MRTA
10:11 am David King, President, Manitoba Recreational Trails Association speaks
10:13 am Ruth Marr thanks David King, introduces Dana Meise
10:15 am Dana Meise speaks, shares some brief stories from the Trans Canada Trail
10:25 am First part of event ends / Minister leaves
10:30 am Dana continues to share stories, takes questions from guests
11:00 am Event wraps
Have a great time everyone!