23 November, 2009
Trans Canada Trail signs MOU with Parks Canada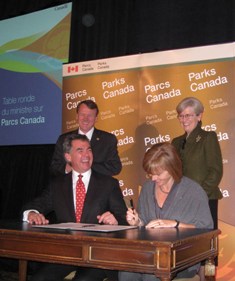 November 20, 2009. Trans Canada Trail and Parks Canada have formalized an agreement to work together to further recreational trail planning, development, management and promotion in Canada.
The terms of the agreement are set out in a Memorandum of Understanding, which was signed by Deborah Apps and the Minister of the Environment, the Hon. Jim Prentice, at the Ministers' Round Table on Parks Canada in Toronto today. Deborah Apps and Valerie Pringle took part in a media conference with Minister Prentice.
According to the terms of the new MOU, Parks Canada and the Trans Canada Trail are committing to collaborate, and will work to "identify, develop and implement mutually beneficial projects, programs and opportunities related to trail planning, design, construction, maintenance, sustainability, safety, communications, promotions and learning".
As well, there will be a more structured collaboration between staff of the two organizations and the wider trails community for greater sharing of information; collaborative activities; and an annual work plan that identifies potential projects, programs and opportunities.
"Trans Canada Trail is honoured to be entering this new partnership with Parks Canada, one of Canada's most treasured and iconic natural and cultural heritage organizations," says Deborah Apps, President and CEO. "Both organizations are committed to preserving Canada's special outdoor and historic places as a living legacy and are inspiring Canadians and visitors to explore and discover our magnificent country."
Parks Canada Media Release: Minister Prentice Signs Agreement with Trans Canada Trail during Stakeholder Roundtable on Parks Canada
Backgrounder: Parks Canada –Trans Canada Trail MOU
Photos (upper left): Jim Prentice, Minister of the Environment and Minister Responsible for Parks Canada and TCT Chair Valerie Pringle sign the MOU. Alan Latourelle and Deborah Apps look on. (lower right): The Hon Jim Prentice and Valerie Pringle watch Alan Latourelle, CEO Parks Canada and Deborah Apps, President and CEO Trans Canada Trail sign the MOU.