19 April, 2011
Véloroute Marie-Hélène Prémont now part of Quebec's TCT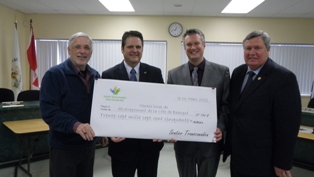 The Trans Canada Trail is delighted to announce a wonderful new addition to its trail network in the province of Quebec. The 55-kilometre Véloroute Marie-Hélène Prémont, which connects the north shore  municipalities of Ange-Gardien and Château-Richer along one of the oldest transportation routes in North America, is now officially part of the Trans Canada Trail. We are also pleased to contribute financial support to the construction of  a non-motorized overpass, which will provide easy access to local attractions for cyclists and walkers.
"We are very proud that the Véloroute Marie-Hélène Prémont is now part of our network in Quebec," said Richard Senécal, Regional Coordinator for the TCT in Quebec. "This project has been several years in the making so it is especially satisfying to see it progress. We are pleased to contribute $37,000 toward the construction of the Petit-Pré River footbridge along this route, a cultural and historic gem for all to explore and discover."
In the photo: Richard Senécal, Coordinator for Trans Canada Trail, Quebec; monsieur Pierre Lefrançois, Prefect of the MRC de la Côte-de-Beaupré and Mayor of the municipality of Ange-Gardien; monsieur Bernard Paré, President of the Local Development Centre of Côte-de-Beaupré (CLD) and of the Friends of Cap Tourmente Association; and monsieur Raymond Bernier, MNA for Montmorency and President of the Citizen Relations Committee.