13 February, 2008
Valerie Pringle celebrates the Iron Horse Trail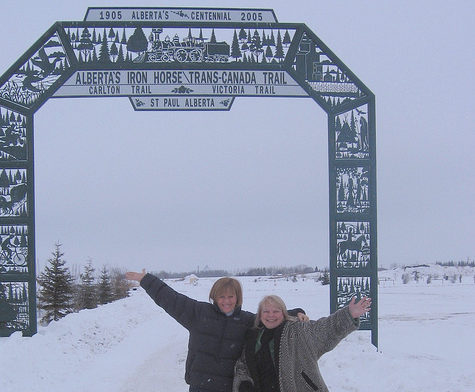 Alberta's Iron Horse Trail is one of the signature elements of the Trans Canada Trail.
It has the most beautiful Trailhead that I have seen, a magnificent iron structure designed by St. Paul town councillor Pat O'Neil and artist Rob Bonnard and built by Mr. Metal.
It is also a perfect model of community and government cooperation and foresight.
The Iron Horse Trail officially opened on June 8th, 2003 and is 300 km long of which 183 km is Trans Canada Trail.
There was a great celebration held in the community centre in St. Paul on January 19th to acknowledge the efforts of all the volunteers who created Alberta's Iron Horse Trail from the old CN line and to officially launch Alberta TrailNet's first map of Alberta's Trails which features Northeast Alberta.
Ray Danyluk, the Minister of Municipal Affairs, remembered the very first meeting when the idea of turning the railbed into a Trail was proposed and along with other key people like Robert Bouchard and Jerry Bidulock received a special plaque to recognize his work for the Iron Horse Trail.
Hector Goudreau, the Minister of Tourism, Parks, Recreation and Culture helped make the publication of the map possible and joined in the snowmobile ride on the Trail and kubasa fest following the ceremonies.
I was kitted out by Jerry Bidulock for my snowmobile ride on the Trail, but the bows on my snowmobile boots were courtesy of Louise Sherren of the Alberta Snowmobiling Assn. who felt I should be in something more stylish and to show, in her words, that; "snowmobiling has gone green."
I encourage you all to visit Alberta's Iron Horse Trail and learn from them about working together to build wonderful local trail that becomes part of a national treasure.
submitted by Valerie Pringle, Chair of the TCT Board and Broadcast Journalist
Valerie takes the measure of the Iron Horse Trail.