Trans Canada Trail + Loops & Lattes
A Great Match to Explore Ontario Trails!
We're so proud of our new collaboration with author Nicola Ross and her Loops & Lattes books! This series of hiking guidebooks are ideal for everyone from casual walkers to seasoned hikers. 
"We protect what we love and there's no better way to fall in love with nature than to hike a trail. In this way, the Trans Canada Trail is a linear conservation project, and who wouldn't support that? Besides, I was born, raised and continue to live in Caledon, Ontario, home to Trans Canada Trail's first pavilion." – author Nicola Ross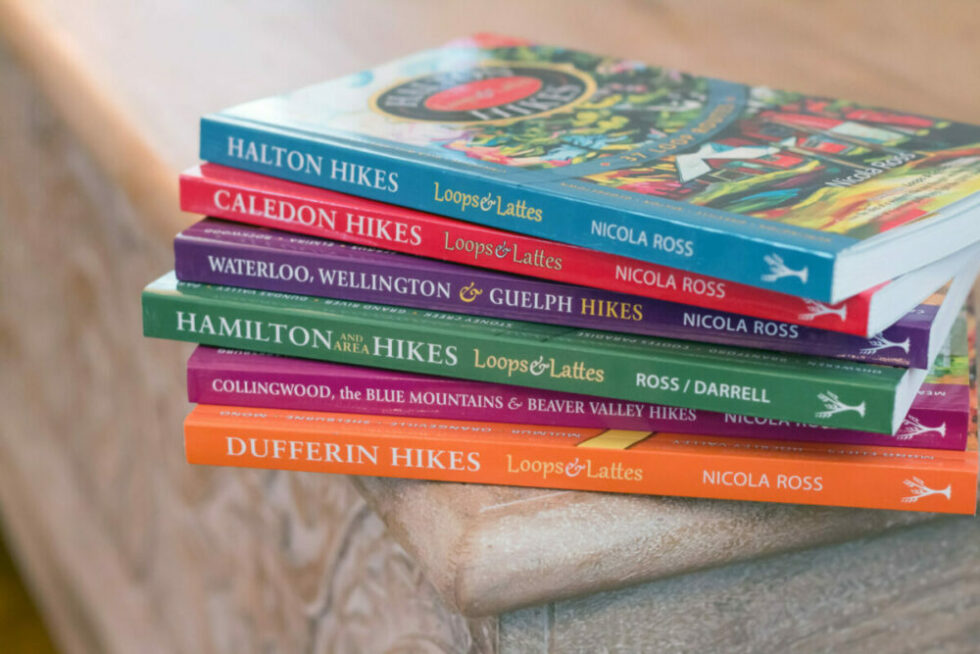 About Loops & Lattes Guidebooks
Hiking enthusiasts from Ontario may already be familiar with Nicola Ross and the Loops & Lattes series: this comprehensive six-book series covers several regions of Ontario and includes a total of over 140 hiking loops, including spots on the Trans Canada Trail! In addition to authoring the Loops & Lattes series, Nicola is an accomplished travel writer and avid supporter of trail organizations across Canada.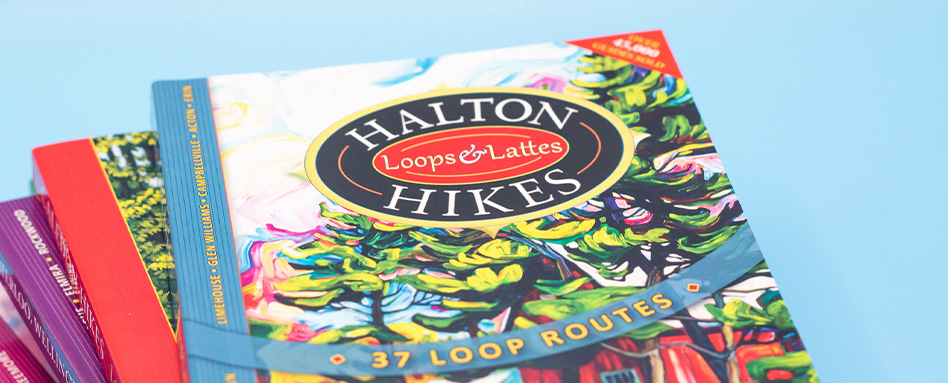 How to support Trans Canada Trail through the purchase of Loops & Lattes guidebooks
Supporting Trans Canada Trail is as easy as 1-2-3: 
Purchase your next Loops & Lattes guidebook from

their site.

 

Enter the promo code

TRANSCANADATRAIL

at checkout.

 

With each book purchased, $5 will support the important work of Trans Canada Trail.

 
Funds raised through sales of the book support Trans Canada Trail's mission to maintain and develop more than 28,000 kilometres of the Trail across Canada, including more than 6,000 kilometres in Nicola's home province of Ontario. 
The Trans Canada Trail in Ontario
Did you know that Ontario is home to the longest section of the Trans Canada Trail? So why not pick up a Loops & Lattes guidebook – or several! – and hit the Trail near you! Explore our map here. 
More About the Books

Halton Hikes
Explore 37 routes that will appeal to casual walkers as well as seasoned hikers. The Halton region stretches north from Oakville and Burlington, up the cliffs of the Niagara Escarpment near Campbellville, Milton, Acton, Georgetown and Glen Williams and into the rural areas near Eden Mills, Rockwood, Erin, Cheltenham and Terra Cotta.
Collingwood, the Blue Mountains and Beaver Valley Hikes
Featuring 35 loop hikes to choose from, this guide offers precise directions, maps and colour photos, longer and shorter hikes, and hilly hikes and flat ones. This book will guide you to Metcalfe Rock, Pinnacle Rock, Freedom Rock and Old Baldy. It will introduce you to crevices, caves, canyons, karst topography and a keyhole, as well as hidden crannies where snow lasts into July.
Waterloo, Wellington & Guelph Hikes
Waterloo, Wellington & Guelph Hikes takes you to a land where historic cities, towns and villages cozy up to pastoral rivers. Where else in Canada can you board a train, transfer to a wagon, get dropped off next to a garage occupied by horses and buggies, wander along streets lined with heritage inns and restaurants, and pick up a latte before your hike has even begun?
Hamilton and Area Hikes
This area is known as the "Waterfall Capital of the World," and this guide takes you to more than 20 of them. While there's something captivating about cascading water, the waterfalls are just the beginning of what makes Hamilton and the County of Brant havens for hikers. Within Hamilton's urban boundaries, there are stands of regionally rare Carolinian forest, tallgrass prairie, wetlands and savannahs.
Dufferin Hikes
If you like to hike or walk and don't yet know about the trails in Dufferin County then Nicola Ross has a surprise for you. Bordering Caledon and Peel Region, the "high" county, as it's known, is Caledon with a fraction of the traffic, fewer houses, deeper valleys and dirt roads that go nowhere.
Caledon Hikes
Situated in Southern Ontario's Greenbelt, home to the Niagara Escarpment's cliffs, the Oak Ridges Moraine's rolling kames and kettles, fine farmland and several of Southern Ontario's most picturesque rivers, Caledon is a rural gem located within Toronto's urban shadow. Find detailed descriptions of 37 hiking loops that are perfect to spend an hour, an afternoon or even an entire day.
Buy Loops & Lattes
---
*Trans Canada Trail receives fundraising benefit from cause marketing partnerships. With each book purchased using the coupon code TRANSCANADATRAIL, $5 supports Trans Canada Trail. There are no maximum or minimum fundraising amounts set through this agreement.