22 December, 2016
5 Outdoor Skating Rinks Along The Great Trail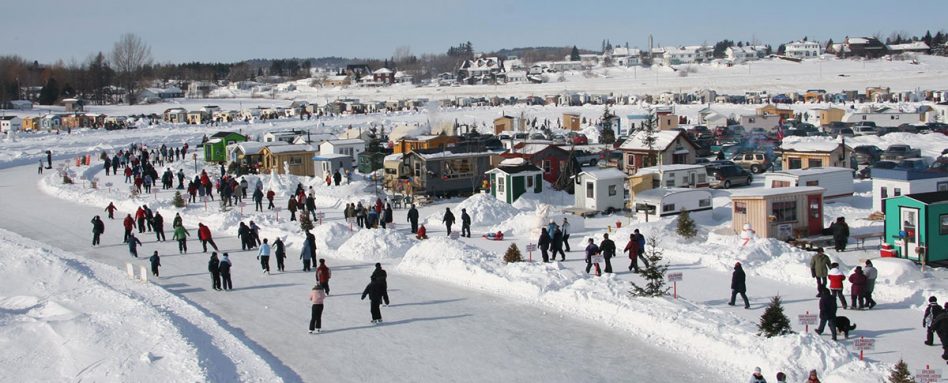 What comes to mind when Canadians think of The Great Trail? Well, first and foremost, the multiple opportunities for hiking, cycling, paddling and cross-country skiing. With 24,000 kilometres of pathways, it's the world's longest trail system — a vast playground for outdoor enthusiasts. But what about Canadians who love outdoor ice skating?
Fret not, it's entirely possible to go skating at various locations along the Trail.
Here are five places on The Great Trail, where you can swap your snowshoes or winter boots for ice skates.
The Rideau Canal

Ottawa, Ontario
One of Canada's most emblematic winter activities is a leisurely skate along the Rideau Canal. Ice skaters can glide from the National Arts Centre and continue for over seven kilometres — on the largest naturally frozen skating rink in the world (as designated by Guinness World Records). Kids can live out their Elsa and Anna "Frozen" fantasies with rentable bright red sleds. To make the experience truly Canadian, munch on a Beaver Tail from one of the many huts along the Canal. The official Rideau Canal Skateway website offers up-to-date information. Skate rentals available on location.
Red River Mutual Trail

Winnipeg, Manitoba
"The Forks" — where the Red River and the Assiniboine River merge — has been a meeting place for over 6,000 years. In the winter months, the manicured skating path along the frozen river surfaces is an ideal venue for outdoor enthusiasts. The six-kilometre route has multiple access points and entertainment zones, including designated warming huts that are works of art in and of themselves. (Instagrammers take note!) The Zamboni that smooths the ice is rumoured to be powered by leftover French fry grease. Yum! Skate rentals available on location.
Parc La Fontaine

Montreal, Quebec
Set to the soundtrack of classical music, the outdoor skating rink on the pond in Parc La Fontaine is one of the most charming venues for a winter date in Montreal. Sure, there's plenty of space on the groomed rink to attempt a triple Salchow, but the overall vibe is unhurried and safe for beginners. For an après-skate head across the street to Bar le Lab, and warm up with a "Buttered Lab Grog" (a warm cocktail with rum, apple liqueur and toasted almond bitters). Skate rentals available on location.
Cameco Meewasin Skating Rink

Saskatoon, Saskatchewan (photo: Tourism Saskatoon – Scott Hunter)
Located in Kinsman Park (along the South Saskatchewan River), the Cameco Meewasin Skating Rink is a "must visit" for a prairie guy or gal who's dreamed of joining the cast of Disney on Ice. Open until 9pm each day, the rink sees hundreds of daily visitors. While sticks and pucks are not allowed on the rink (sorry, hockey fans), the atmosphere is decidedly jocular and entertaining nonetheless. After unlacing your skates, warm up with a locally-roasted, fair-trade coffee at Living Sky Café.  Skate rentals available on location.
Shipyards Park

Whitehorse, Yukon
Located along the banks of the Yukon River, at the northern end of downtown, Shipyards Park is a multipurpose public space that features a rollerblading/bicycle track that transforms into a skating loop in the frostier months. Onsite events take place throughout the winter, including a New Year's Eve party with live music and in February, a boisterous 10-day winter festival. Fire pits and washrooms on site — but bring your own skates!