30 June, 2015
A brand new water Trail in British Columbia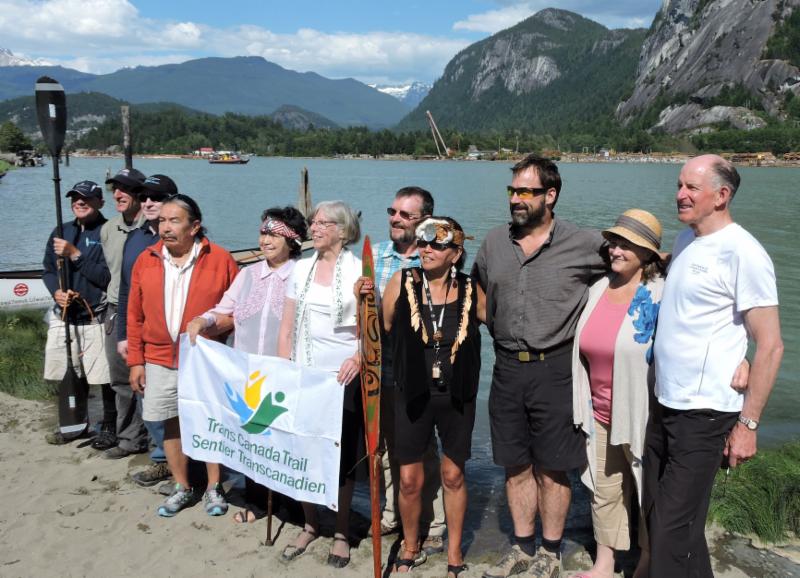 The new Sea to Sky Marine Trail—part of the Trans Canada Trail network—officially opened on Sunday, June 14, 2015 at Nexen Beach in Squamish, British Columbia amidst speeches from various dignitaries, including B.C. Lieutenant Governor Judith Guichon, MLA for West Vancouver-Sea to Sky Jordan Sturdy, Squamish Mayor Patricia Heintzman, TCT President & CEO Deborah Apps, and TCT Director Jim Bishop.
The Sea to Sky Marine Trail is unique, in that it is the only saltwater route in the Trans Canada Trail network. The story of the Sea to Sky Marine Trail began with Sea to Sky Trail and BC Marine Trail Network representatives searching for a way to connect Squamish and the Sea to Sky Trail with the rest of the Trans Canada Trail in Horseshoe Bay.
Now, B.C. can boast of an amazing new resource for the communities around Howe Sound, and for the province's entire Southern Coast. New waterfront access points have been developed as "rustic" campsites for users of self-propelled watercraft, such as sea kayaks, and offer the opportunity for multi-day paddling and camping trips throughout Howe Sound.
What's more, the realization of the Sea to Sky Marine Trail is a major accomplishment in the environmental restoration of Howe Sound. Trail representatives say they are seeing wildlife return to these waters after being absent for many years.
This Trail section also tells the story of the surrounding community: Squamish Nation Chief Bill Williams told the assembled crowd on June 14 that the new trail would serve to recognize First Nations connections to both the land and water, and help Squamish Nation youths to explore their heritage and culture like never before. The campsites will have signage in English and the language of the Squamish Nation.
"This Trail, like so many others across the country that make up our national Trail, provides important recreational infrastructure, while keeping part of our history and our proud Canadian journey alive for future generations," says TCT President & CEO Deborah Apps. "We are weaving a magnificent tapestry across this country in the TCT, one we will celebrate together on Canada's 150th birthday in 2017. Progress of this kind could not happen without the generous support of donors who are investing in our shared vision. Our thanks to the RBC Foundation, for their generous support of this project and Trail development across Canada, and to all volunteers and other unsung heroes who work tirelessly to contribute to our national Trail."