22 December, 2016
A Once in a Lifetime Arctic Skiing Adventure on The Great Trail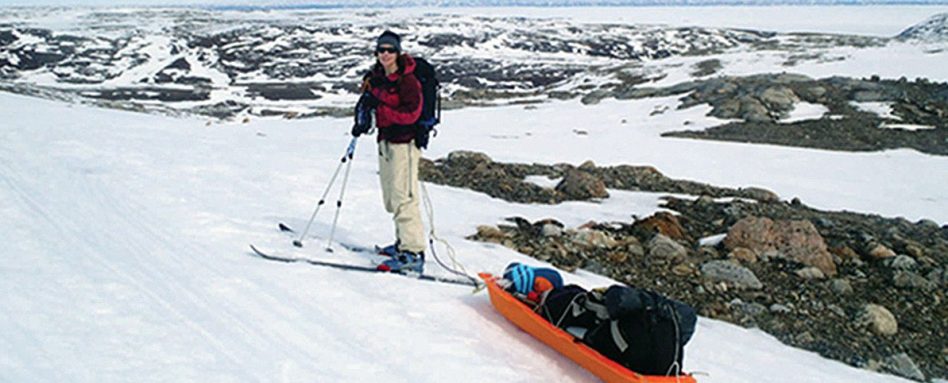 Karen McColl lives in Whitehorse, Yukon, where she works as a writer and reporter.
She is also a diehard outdoor adventurer, and many of her exploits have been on sections of The Great Trail. One that stands out above the rest was a cross-country ski trip she did on the southern coast of Baffin Island in 2012 with a friend.
The pair bundled up in warm clothing, strapped on their cross-country skis, grabbed their poles, and skied 70 kilometres of the Itijjagiaq Trail, which is a single, mostly unmarked nature trail used by hikers in the Arctic summer and mainly snowmobilers and dogsledders in winter.
The route starts from the high cliffs and peppering of inlets and sounds that make up Frobisher Bay. From there, it crosses the rolling hills of the Meta Incognita Peninsula — named by Queen Elizabeth I, it is Latin for "the unknown limits," which seems appropriate given the landscape! The Trail then runs through Katannilik Territorial Park to the traditional Inuit hamlet of Kimmirut, about 140 kilometres away.
"That area is all rolling tundra and bluffs," she says. "The Itijjagiaq Trail is a traditional overland route for Inuit and it doesn't see much recreational traffic. But I almost enjoyed it more because the beauty isn't always obvious — it's subtle. It takes you through canyons, across small lakes, and there's something pretty around every corner."
Karen and her friend even had to ski over sea ice — a first for Karen. "I felt really vulnerable on the ice because there's no place to hide," she says. She was also a little concerned about running into a polar bear on their first night camping in Frobisher Bay — a valid concern, if you ask us!
"Thankfully, we didn't see any," she says. "But out on the Trail we saw plenty of other wildlife. There were snow buntings (a type of Arctic bird) everywhere."
Karen is inspired by the country's wild beauty, and says that exploring Canada along The Great Trail has helped her appreciate the awesomeness of our topography.
"The neat thing about The Great Trail, and the Itijjagiaq Trail in particular, is that you're travelling between communities on all sections of the Trail," Karen says. "It's a Canadian thing that we have more wilderness between places."
For Karen, the most thrilling adventures are found on the roads less travelled. She prefers remote places, and not just for the feeling of freedom of wide open spaces.
"When I get to somewhere that few can visit easily I always think about how people got around in the days when they relied on wagon trails and rivers," she says. "It's mind-blowing to think about how these routes have been travelled for generations."