27 September, 2018
Amazing prizes to be won in The Great Trail Treasure Hunt, but time is running out!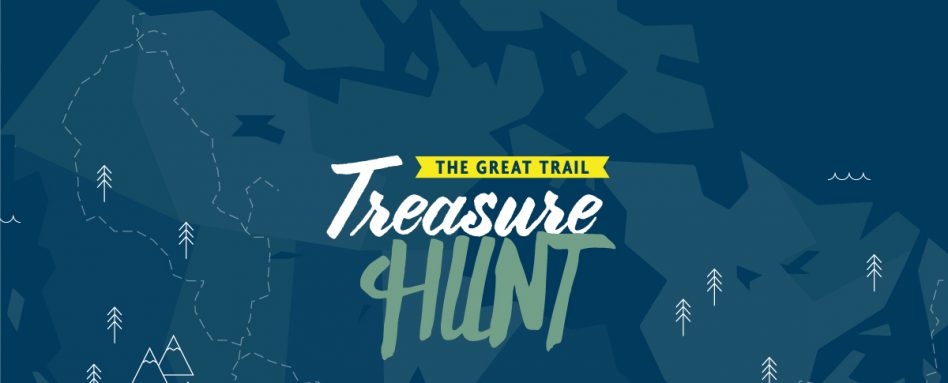 Through wind, rain and scorching temperatures, nothing has stopped George Kourounis, The Royal Canadian Geographical Society's Explorer-in-Residence, from travelling on The Great Trail to stash treasure boxes in what has been called Canada's biggest treasure hunt.
"There's only a month left to get out there and search for the hidden treasure boxes along The Great Trail," says George, an explorer and storm chaser. "The clock is ticking on your chance to not only win some amazing prizes and explore this amazing country. While I was hiding some of the treasure boxes, I discovered some new corners of Canada that I'd never been to before.
The Great Trail Treasure Hunt is the brainchild of Trans Canada Trail (TCT) and the Royal Canadian Geographical Society (RCGS) and is a fun way to get Canadians exploring the world's longest network of recreational trails. Every province and territory is home to its own stretch of the Trail, and 80% of Canadians live within 30 minutes of a Trail section.
Canadians can visit The Great Trail Treasure Hunt to see sections of the Trail where they can find a treasure box.  The first to find a box wins a $100 gift card from Mountain Equipment Co-op (MEC) and a one-year subscription to Canadian Geographic magazine.
Hundreds of Canadians have hit the Trail over the past month searching for the treasure boxes. Many of them have scored some amazing prizes, including $250 MEC gift cards, Nikon cameras, SPOT GPS devices, KEEN gift cards or one-year subscriptions to Canadian Geographic magazine. There are still another 25 prizes up for grabs in the weekly prize draws that end October 31, when the treasure hunt comes to a close.
Everyone who enters the contest is eligible for a grand prize of a trip of a lifetime for two onboard One Ocean Expeditions' newest expedition cruise vessel, RCGS Resolute, to experience OOE's Labrador and Torngat Mountain Explorer voyage, as well as additional prizes. Treasure boxes have been found in almost all provinces and territories, with Nunavut's hidden box the only hold-out.
"It is wonderful to see families, seasoned geocachers and outdoor enthusiasts not only finding treasure boxes, but also discovering and enjoying The Great Trail in their local areas," says Danielle St-Aubin, Vice-President, Marketing and Communications at TCT. "We've even heard stories of people travelling for hours to continue their treasure hunt!"
TCT and the RCGS gratefully acknowledge the support of the following sponsors: One Ocean Expeditions, Mountain Equipment Co-op, Nikon Canada, KEEN Footwear, Clif Bar & Company, SPOT Satellite GPS Messenger, The Globe and Mail, and Parks Canada.