2 April, 2015
An Evening in Alberta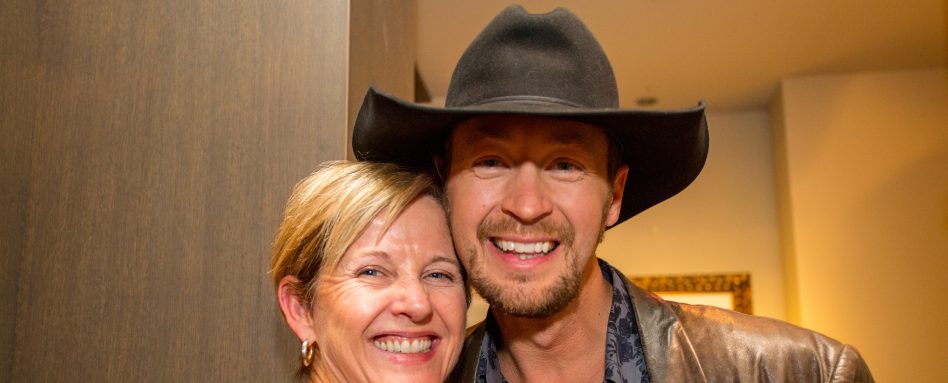 Photos from our Calgary Chapter 150 reception with
Mrs. Laureen Harper and Paul Brandt 
Our hostess, Robyn Ritchie, with TCT National Champion Paul Brandt
On October 14, 2014, Gordon and Robyn Ritchie, friends of the Trans Canada Trail, generously hosted a TCT Chapter 150 Campaign reception at their Calgary home.
Click on the photo below for the full slide show.
[flickr_set id="72157651301629110″]
Enthusiasm was high as more than 60 guests joined TCT's Honorary Campaign Chair, Mrs. Laureen Harper, and Canadian country music artist and TCT National Champion, Paul Brandt, to discuss the writing of a new and important chapter in our nation's history.
Together with Paul LaBarge, TCT board chair and Deborah Apps, TCT's President & CEO, the Ritchies were also delighted to welcome TCT Patron Jim Gray, Russ Girling of the TCT's Chapter 150 Campaign Cabinet, Betty Ann Graves and Patricia Leeson of the TCT Board of Directors, Adrienne Nickerson, Jacob Goranson, Manjit Minhas, Gord Ritchie, Bob Sutton and Ryan Townend of the TCT Chapter 150 Alberta Committee, and a number of other proud Albertans.
It was an occasion for the TCT to present an exciting overview of how this iconic national project is progressing across the country, with particular focus on the Alberta Campaign.
The gathering was also the perfect opportunity for the TCT to welcome a new donor to the Chapter 150 Leadership Circle. Inter Pipeline Ltd.'s generous $1.5 million gift will fund the connection of the Strathcona County Trail in the Sherwood Park area of Edmonton, Alberta.
In recognition of Inter Pipeline's support, Mrs. Harper presented a TCT walking stick to its President and CEO, Christian Bayle, who attended the event with his wife, Nicole Cramer.
Many thanks to our gracious hosts, Gordon and Robyn Ritchie, and to all our esteemed guests for taking the time to join us in Calgary last October. Together, we will successfully connect the Trans Canada Trail by 2017, in celebration of Canada's 150th anniversary of Confederation.