1 April, 2016
An Exceptional Volunteer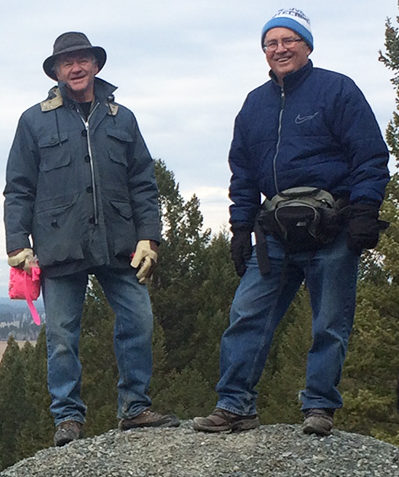 L to R: Neil Shuttleworth and Al Skucas accompanied by Neil's dog, Gypsy. Photo by Sarah Meunier.
Al Skucas, Trails BC
Many Canadians with a passion for trails and the great outdoors are committed volunteers, spending much of their own time and energy on local trail projects.
One of these volunteers is Al Skucas in Cranbrook, BC.  Al Skucas is a determined and devoted individual who made
the Cranbrook to Wardner Destination Trail become a reality. This exciting new 40 km trail between Cranbrook and Wardner utilizes two sections of the abandoned Isadore railway corridor in the East Kootenay region of British Columbia.
In previous years, Al was on the Board of Directors for the North Star Rails to Trails Society and assisted with the development of this 26 km paved trail located between Kimberley and Cranbrook, also part of the TCT and operational since 2012.
Al has done an incredible amount of work here and below are just some of the tasks he performs in his spare time:
Approaching landowners for permissions
Hiring contractors
Surveying the area and laying out the trail
Applying for grants
Keeping track of all revenues and expenses related to project
Signage installation
Event planning and many more…
Al is also currently the Regional Chair of Trails BC for the Rocky Mountain and West Kootenay areas.  Trails BC has supported the development of the Trans Canada Trail for several years and they have contributed greatly to the creation of non-motorized trails across the Province. Al is also a devoted husband, father and grandfather. If you ever have the chance to meet him he will probably tell you how much he likes taking his grandchildren out on the trails he helped create.