28 February, 2017
Bikepacking 101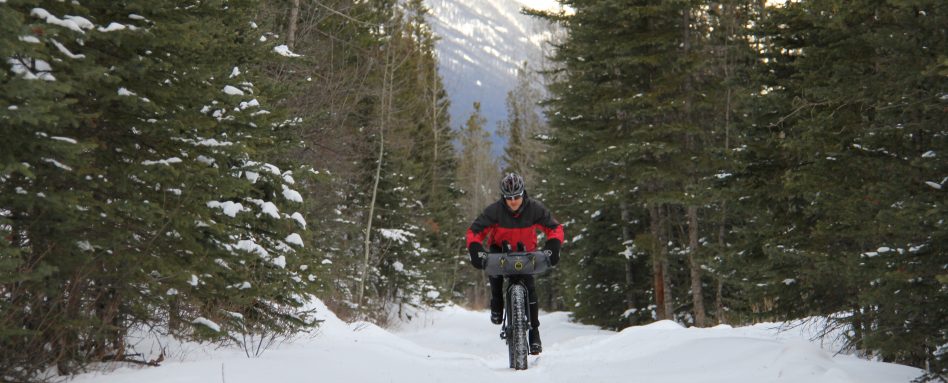 Text and photo by Ryan Correy (cover photo by Sarah Hornby)
What is bikepacking?
My father and I cycled across Canada when I was 13 years old. True story. Since that formative time, almost twenty years ago, I have had the great fortune of touring pretty much every corner of the Americas – Alaska to Argentina in 2005, the Race Across America in 2008, twice along the Great Divide Route (Banff to Mexico), the Arizona Trail, and much more. You can read about these adventures in my autobiography, A Purpose Ridden.
During the last seven years in particular, I have come to love mountain biking and exploring the backcountry as the next frontier of cycle tourism. Bikepacking, as we call it, is for enjoying forgotten forest service roads and lost singletracks, and smaller gateway communities, previously not used by our asphalt compadres. Simply put, bikepacking is essentially multi-day mountain biking.
The Great Trail network is really the go-to for bikepacking. There are of course great swaths of asphalt in the network, but if one wanted to ride the entire route, from coast to coast to-coast, bikepacking is the ideal way.
What gear do I need?
Mountain bike
There is no bike snobbery in the bikepacking community. If I were to pick one form of two wheels to navigate the entire Great Trail, however, it would be a hardtail mountain bike — with only front suspension — good load carrying capacity in the rear, front shocks for the off-road sections, fewer mechanical parts than a full-suspension, a larger middle triangle (for your frame bag). A hardtail mountain bike is also quicker on paved surfaces.
Velcro packs
Gone are the days when we need to depend on heavy metal racks and rigid panniers. Check out the new wave of commercial and homemade 'bikepacking bags' making their way into the market. Apidura, one of my personal sponsors, makes high-quality waterproof stuff sacks that adhere directly to your frame using Velcro.
Flexible shoes
You no longer need to carry multiple types of footwear on your adventures. Many brands now make flexible shoes with a cleat, giving you the ability to easily hop off your bike and hike more challenging sections, run into a store for a restock, or comfortably set up camp. My personal favourite is the Shimano XM7.
The Great Trail App Powered by Keen
Not all sections of The Great Trail are uniformly signed. Especially in more rugged locations like southern British Columbia, I'd highly recommend downloading The Great Trail app for IOS and Android to your phone. It gives you the ability to navigate by GPS without a cell signal, which you cannot always depend on.
Where can I learn more?
Bikepack Canada was started in January 2016 as a means to stoke our adventure conversations. You can subscribe to our monthly email, listen to the weekly podcast (Check out an interview with The Great Trail), connect with our social media channels, and contribute to the growing forum. We also encourage you to sign up for the second annual Canada Bikepack Summit, taking place in beautiful Canmore, Alberta, from September 14-17. We're assembling a great lineup of guest speakers, gear demos, swag, daily ridesand informative clinics.
Please feel free to reach out to Ryan by email at info@bikepack.ca