17 December, 2020
Canadians say that trails are offering physical and mental health benefits during COVID-19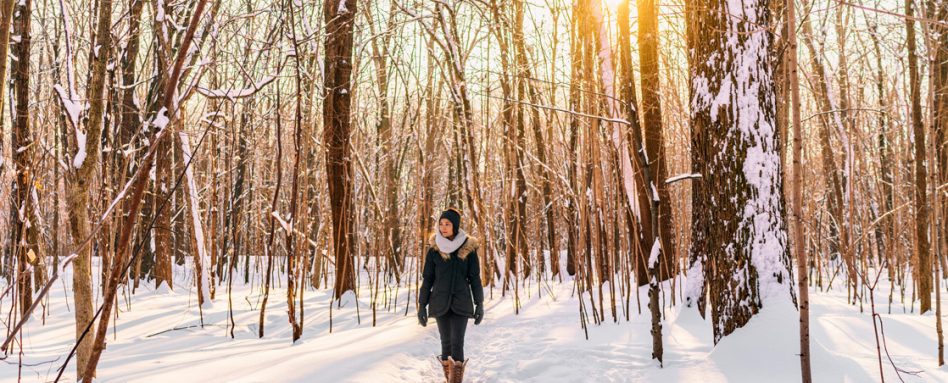 This has been a year like no other. We have had to change our habits and we have adopted new routines in order to stay healthy in the face of the COVID-19 pandemic. 
With so many changes, we were seeing trail use up on our network across the country. Still we wanted to get a better sense of the numbers – and we wanted to find out what was behind the increase to get a clear picture of why Canadians were seeking out trails on a more frequent basis.
We asked, and you answered
In November, we commissioned the national polling and market research firm Léger to conduct a national survey* to measure Canadians' trail use since the beginning of the COVID-19 public health crisis. 
Canadians told us they are  definitely using trails in greater numbers, with usage up close to 50% across all age groups. According to the results, it's clear that trails have become a lifeline for Canadians during COVID-19, providing them with vital connections to nature and to each other.
Using trails for enhanced mental health
We learned that 95% of Canadians are using trails to enhance their mental health. This form of self-care is especially important to youth aged 18-24, with 100% saying it's what motivated them to get outside and explore on trails. People over 65 shared that sentiment, with  97% of them saying that taking care of their mental health and well-being is what prompted their use of trails.

A focus on physical health 
When it comes to using trails for physical exercise and fitness, 95% of Canadians said this is what's motivating their trail use. In fact, 98% of older Canadians (65 and over) told us this is what's getting them out into the great outdoors.
What's special about trails
Access to nature dominated as a reason why Canadians use trails – 99% of Canadians agreed that the opportunity to be outdoors led them to use trails! With so much time spent indoors this year, it's no surprise that people are valuing the chance to enjoy the natural environment outside their front door.
---
"Trail use is up across the country as Canadians seek a refuge from social isolation and a haven that connects them to nature.
The data also underscores the fact that Canadians, especially now, value their access to trails and see them as a way to enhance their physical and mental health"
– Eleanor McMahon
President & CEO of Trans Canada Trail
---
Enjoy trails all winter long 
It may be getting cold outside but 69% of survey respondents said they're intending to use trails throughout the winter months. The days will be getting shorter and it will be more important than ever to find opportunities to enjoy some fresh air and connect with your friends, family and neighbours on a trail near you – in a safe and physically distanced way of course!
Additional insights Canadians shared with us
78% of Canadians who have 2021 winter vacation plans are considering including trails in their winter vacation plans
91% strongly agree that trails are an important source of community recreation
76% strongly agree that trails contribute to the economic development of communities 
77% strongly agree that trails contribute to building our tourism economy
Get outside, explore and have fun!
Public health guidance has been that outdoor activities, such as being on a trail, have a lower risk profile thanks to the available ventilation and enhanced ability to physically distance. We want everyone to stay safe and healthy while taking time for themselves mentally, socially and physically, so we recommend that you follow all local public health guidelines and protocols.
See you on the Trail!
—-
*SURVEY METHODOLOGY
A Web survey was conducted with a representative sample of 1,500 Canadians. Respondents were randomly selected from Léger's Web panel. French and English speaking Canadians, 18 years of age and older. No margin of error can be associated with a non-probability sample (Web panel in this case). However, for comparative purposes, a probability sample of 1,500 respondents would have a margin of error of ±2.5 19 times out of 20.