17 April, 2013
Celebrating our Successes: Atikokan-Quetico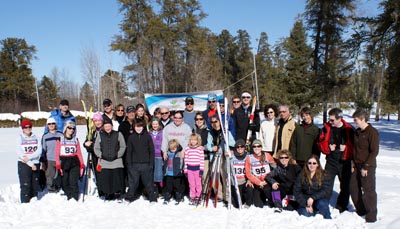 How do you celebrate a Trail opening in February in Northern Ontario? How about a gorgeous day of cross-country skiing punctuated with a ribbon cutting, bonfires, hot chocolate and prizes?
The Grand Opening of the Atikokan-Quetico segment of the Trans Canada Trail held at the Little Falls Community Centre in Atikokan, Ont., on Feb. 24 was celebrated with cross-country skiing under perfect conditions.
"This opening marks the culmination of five years of planning and development," said Lise Sorensen, Trail Planner at Beaten Path Nordic Trails. "From laying out the route through untravelled terrain to clearing the trail, grooming and then, finally: skiing it! It's exciting to see it all come together."
Sorensen said that while the local Trail builders encountered many obstacles during the construction of the 14-kilometre segment, the team was determined and worked hard – and found that Trail building also reaps a variety of rewards.
"Prying out stumps and boulders, and levelling side slopes with logs was a great workout," she said. "And being outdoors with friends is so much better than the gym! We always had a huge sense of accomplishment."
Sorensen said that funding from TCT and Atikokan's Local Initiatives Program allowed the group to build a retaining wall where part of a kilometre-long ridge broke down.
"I think what comes to mind for me is how proud BPNT is to be able to be a part of such an exciting project and to use this portion of the TCT to link our existing trails to town," said Anna Fotheringham, a BPNT club member. "We hope that this portion of the TCT that is, more or less, in town will allow more people to enjoy an active lifestyle with their family and friends."
Beaten Path Nordic Trails is also getting kudos for its work with TCT from the town of Atikokan.
"Our community is very fortunate to have them working so diligently on our behalf," said Paula Sanders, Senior Community Development Advisor for the Atikokan Economic Development Corporation. "Being part of the Trans Canada Trail allows us to benefit from their funding, resources, guidance and promotion.
"We are known as 'The Canoeing Capital of Canada' for our breathtaking summer adventures and now, because of the Atikokan Beaten Path Committee and TCT, Atikokan has a stronger presence on the map as an amazing winter destination as well."
What's next for the Trans Canada Tail in The Canoeing Capital of Canada?
"We're currently accessing our trail by a temporary ice bridge, which is great for skiing, but not so great in the summer," said Sorensen. "We hope to provide an all-season bridge or barge-pulley system so that hikers and mountain bikers can use our trail as well as skiers."
-db