2 November, 2015
Celebrating Saskatchewan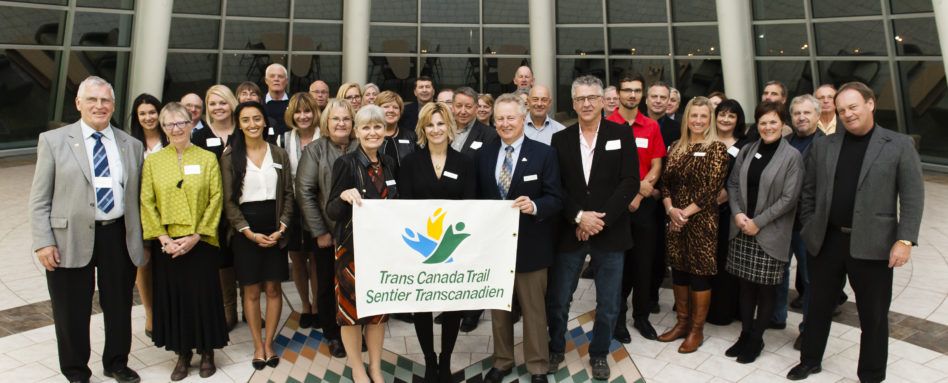 Attendees at the TCT reception in honour of Saskatchewan volunteers and Trail-builders (October 22, 2015) Photo: Michael Bell.
The TCT Board of Directors met in Regina on October 22 and hosted a reception to thank our many partners in Saskatchewan for their amazing work in the recent success of Trail development in the province: from 34% to 71% connection in one year!
An estimated 40 people attended the reception, against the backdrop of spectacular photos from the June 5, 2015 opening of Chief Whitecap Waterway at Whitecap Dakota First Nation.
Chief Whitecap Waterway Committee member Russ McPherson spoke to the gathering about the valuable partnerships involved in the development of Chief Whitecap Waterway, particularly the visionary support of Whitecap Dakota First Nation Chief Darcy Bear.
The event was also an occasion for TCT to express sincere thanks to Sinclair Harrison, chair of the Saskatchewan Vision 2017 Trail Committee, as well as Cathy Watts, past president of Saskatchewan Trails Associations and current Vision 2017 Trail Committee member, for their tireless commitment and successful work on the Trail in Saskatchewan.
On display at the Regina reception was an exquisite 1/20th scale model of the soon-to-be-built Trans Canada Trail Suspension Bridge in beautiful Wakamow Valley, Moose Jaw. Modelled after a historic bridge from southern Saskatchewan, the structure will be built by the Military Engineer Corps. Photo: Michael Bell
It was a rewarding few days in Regina, with positive energy very much in evidence as we continue to progress toward full connection in 2017.
VIEW THE PHOTO ALBUM HERE.