12 September, 2017
Connected…and We're Just Getting Started!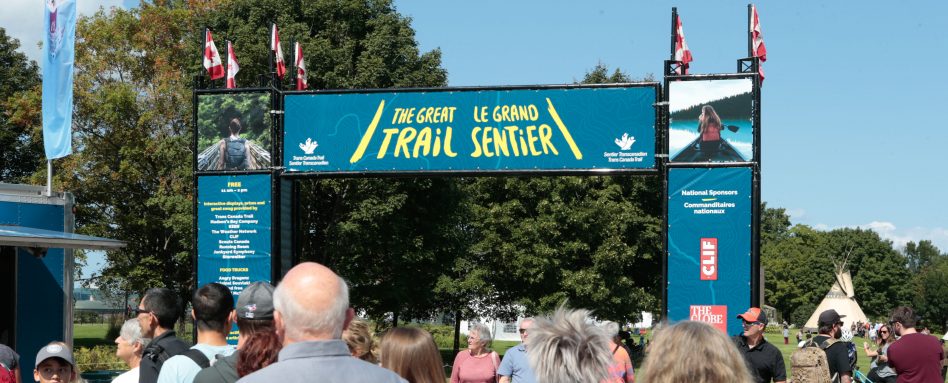 On August 26, 2017, Trans Canada Trail, along with our partners and supporters, marked the official connection of The Great Trail across Canada with celebrations – almost 200 in total – in every province and territory.
The events were an opportunity to acknowledge and thank the many donors, volunteers and partners who helped realize the bold dream of connecting Canadians from coast to coast to coast.
In Ottawa, at the national event, Steven Page crooned to a delighted crowd under sunny skies, preceded by local talents La Récolte, Prairie Fire, Kimberly Sunstrum, Voices of Praise, Cody Coyote, Nukariik and D-Luxx Brown.
Governor General David L. Johnston and Mrs Sharon Johnston started proceeding with words of welcome, as did Elder Claudette Commanda, followed by Minister of Environment and Climate Change Catherine McKenna, who spoke of her commitment to The Great Trail and its vision of encouraging Canadians to explore their beautiful country.
Also on-hand were Great Trail sponsors Keen Footwear and CLIF Bar, along with our major partner Hudson's Bay who brought their Grand Portage canoe onstage and to announce the results of their major fundraising effort: $1,000,000 to support Trail connection across Canada!
Cross-Canada connection events were made possible by a generous grant from Canadian Heritage as part of the CAN150 community fund.
And while August 26 marked official cross-country connection for Trans Canada Trail, The Great Trail – now spanning 24,000 kilometres and touching over 15,000 communities – will never be completed.
Our efforts over the past twenty-five years will continue into the next.
We will always seek to turn roadway into greenway where possible, to make the Trail more accessible to all, and to usher in a new chapter where the Trail will grow, improve and thrive for years to come.
Scroll down for highlights from events in many locations, from Grand Forks, BC or Leduc, AB, to Sackville, NB, Grand Lake, NL and the town of Souris, PEI!
BRITISH COLUMBIA
ALBERTA
SASKATCHEWAN
ONTARIO
QUEBEC
NEW BRUNSWICK
NOVA SCOTIA
PRINCE EDWARD ISLAND
NEWFOUNDLAND AND LABRADOR
---