29 April, 2014
Dana Meise inspires We Day participants with real-life action story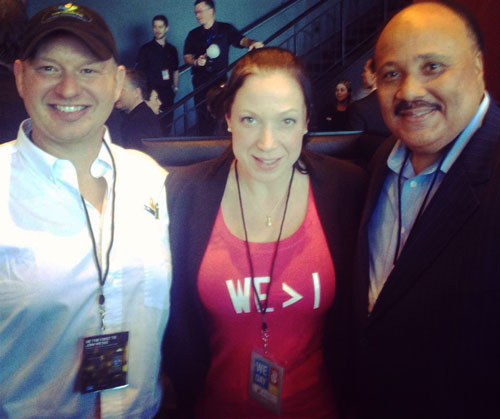 Intrepid hiker, passionate Canadian and Trans Canada Trail ambassador, Dana Meise, received a lively response from 16,000 young Canadians during his presentation at National We Day at the Canadian Tire Centre in Ottawa on April 9, 2014.
The enthusiastic audience of socially-engaged teens cheered and waved sparklers as Meise talked about the benefits of nature and his experiences hiking the southern leg of the Trans Canada Trail-a total of 26 million steps and 16,000 kilometres through nearly 1,000 Canadian communities.
Meise was part of a very impressive list of speakers, including the Governor General of Canada, His Excellency the Right Honourable David Johnston, Martin Luther King lll and Queen Noor of Jordan, all of whom also shared their personal and inspirational messages.
"We were delighted to see that Dana's message about the importance of outdoor activity and the beauty of Canada really resonated with the audience," said President & CEO Deborah Apps, who also attended the event. "We know the Trail can play a significant role in helping young Canadians understand the benefits of nature and to appreciate the diversity and splendour of our country."
We Day audience members earn their tickets via their participation in We Act, an international school program run by Free the Children. We Act encourages teens aged 12 to 16 to be agents of change by organizing fund-raising events supportive of community programs in developing countries.
Dana ended his inspirational speech by inviting teens to start experiencing nature and the Trail section nearest them by participating in TCT's My Trail Story social media campaign.
By sharing their Trail pictures and videos on TCT's Facebook and Twitter channels, Canadians of all ages can also learn more about one another and help to create a stronger and more connected Canada.
Join  the My Trail Story campaign on Twitter @tctrail and on Facebook using the hashtags #tctrail and #trailstory.