27 February, 2013
Dedicated Trail Champion from British Columbia receives Diamond Jubilee Medal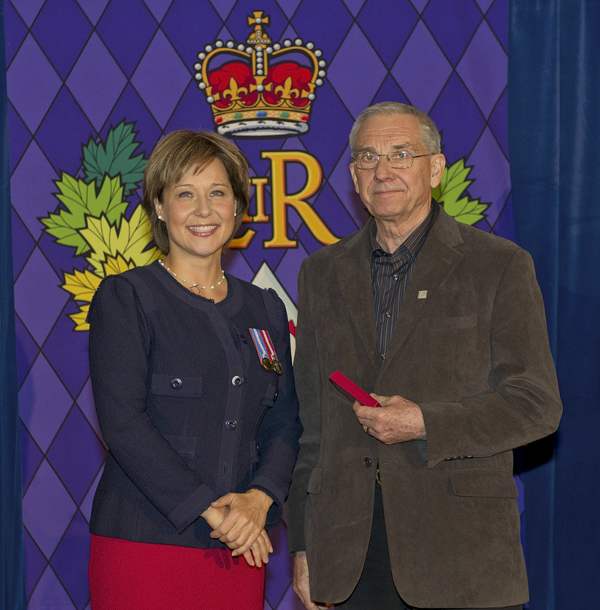 The Trans Canada Trail is pleased to announce that the vice president and southwest regional director of Trails BC, Léon Lebrun, has been awarded a Diamond Jubilee medal.
B.C. Premier Christy Clark made the medal presentation at a special ceremony held at the Pan Pacific Hotel at Canada Place in Vancouver on January 31.
The Trans Canada Trail nominated Mr. Lebrun for his many years of service to Trails BC and his tireless efforts to build accessible recreational infrastructure in his province. Mr. Lebrun's colleagues have nothing but praise for the dynamic man, who received the Trans Canada Trail's first ever Volunteer of the Year award, in 2007, in recognition of his full-time dedication to the cause.
"The Trans Canada Trail is fortunate to have an industrious and dedicated Trail Champion like Mr. Lebrun," said Deborah Apps, TCT president & CEO. "His years of work have made a major contribution to our goal of connecting the Trail from coast to coast to coast by 2017."
Over the years, Mr. Lebrun has been both a director and vice president at Trails BC and involved in one way or another in the development of the trails in the Lower Mainland. He has been particularly active with the Chilliwack River Valley Trail and still seasonally leads trail-maintenance groups.
Mr. Lebrun is also one of the few Canadians to have cycled or walked the entire British Columbia Trans Canada Trail. He's renowned for his annual Trans Canada challenge, which he has been organizing for more than 10 years on International Trails Day, and for his famous "steppette", a jump-and-twirl move he performs once a trail is completed. He is an inspiration to all who work by his side.
TCT is proud to add Mr. Lebrun to the roster of Trail Champions who have received the Diamond Jubilee Medal, as a result of nominations from either TCT or other organizations. If you know of any other Trail Champions who have received the Diamond Jubilee Medal, please let us know! You can get in touch with us at communications@tctrail.ca.
Please join us in congratulating the following outstanding Diamond Jubilee recipients: 
Deborah Apps (Alberta, President & CEO, Trans Canada Trail)
Normand Besner (Québec)
Brian Clark (New Brunswick)
Debbie Cole-Gauer (Alberta)
Paul LaBarge (Ontario, Chair, Trans Canada Trail)
Léon Lebrun (British Columbia)
Blaise MacEachern (Nova Scotia)
Debbie Olsen (Alberta)
David Peterson (New Brunswick)
Robert Sadee (Alberta)
Richard Senécal (Québec)
Barry Spencer (New Brunswick)
Julian Tomlinson (Northwest Territories)
Cathy Watts (Saskatchewan)
Holly Woodill (Nova Scotia)