2 April, 2015
Donor Profile: David Bissett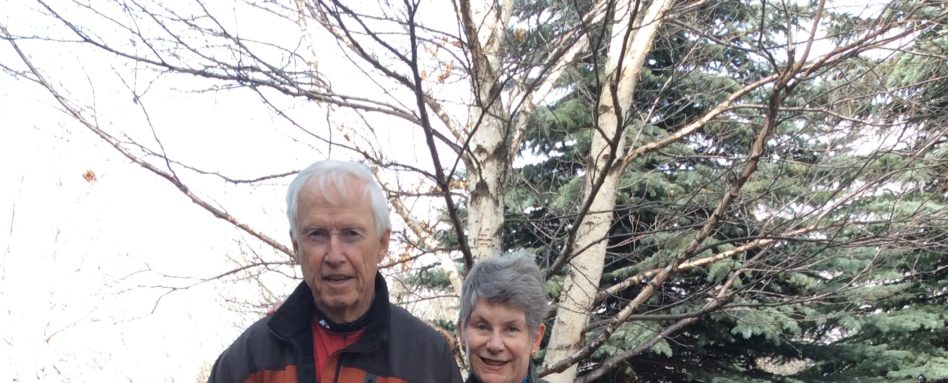 The TCT is proud to welcome philanthropist David Bissett as a Chapter 150 member. 
David and Leslie Bissett
As an avid cyclist, environmentalist and philanthropist, David Bissett is a welcome addition to the TCT Chapter 150 leadership circle.
"I've always been a fan of the Trans Canada Trail and want to help get it connected here in Alberta," says Bissett, whose recent $1 million gift to the TCT Chapter 150 Campaign will help Albertans make great strides in connecting their province's portion of the Trail by 2017, Canada's 150th birthday.
"David has been a philanthropic leader in Calgary for decades," says TCT Chapter 150 Alberta Committee member Gordon Ritchie (Vice Chairman, RBC Capital Markets).
"Even when he was building his highly successful investment management business, he always kept an eye on the outdoors, with consistent and generous support for the environment, community and education. David's gift to TCT will serve as an inspiration for all Canadians who share in his love for the beauty of our vast wilderness."
Time to Give Back
A well-known figure in Canadian business and philanthropy, David Bissett grew up in Charlottetown, Montreal and Halifax, earned his law degree at Dalhousie University and met his wife Leslie (nee Burden) when both were living in Toronto.
The Bissetts moved to Calgary in 1977, where David pursued a distinguished career in the financial services sector, notably the investment management company he founded in 1982.
"The business did extremely well through the support of local individuals and institutions," he says, "so when I sold it fifteen years ago, it was time to give back."
Friends and Family
Supporting the TCT was a natural fit for Bissett, a keen cyclist and outdoorsman with a deep appreciation for Alberta's natural landscapes. "I've been an outdoors person all my life," he says. "That is my passion, and that is where I've spent a lot of time and funds."
Over the past 25 years, the Bissetts have raised horses on a farm near Okotoks, Alberta, in prime cycling territory. "We do a lot of riding around here," he says, "and we've been going on cycling trips with a group of friends for years—we refer to them as 'The Agony Tours.' We've seen many parts of Canada, the U.S. and Europe on our bikes. Next up is the north shore of P.E.I., where I was born."
At Human Speed
The TCT's catchphrase, 'at human speed' resonates strongly with Bissett. "When you're cycling, you get to see the landscape up close, in a way you can't experience by car," he says.
"I think more people would get out there and gain a greater appreciation of our natural areas if there were signposted cycling routes."
For Bissett, that's where the Trans Canada Trail comes in. "There's a great opportunity to create trails right here in Alberta," he says. "We have a beautiful countryside—one that should be appreciated."
Philanthropic Causes
In 2014, Bissett was presented with the Lifetime Achievement Philanthropist Award at Calgary's National Philanthropy Day Luncheon in recognition of his exceptional contributions in the fields of environment, community and education—notably the Alberta Land Institute, the Western Sky Land Trust and Mount Royal College, to name only three examples.
"I want to fund projects that have a significant effect in a relatively short time," he says. "The most important thing to me today is giving back to the community and making a difference."
Lasting Impact
Here at the TCT, Bissett's $1 million gift will indeed make a difference.
Currently, there are 1,200 km of Trail remaining to be developed in Alberta, in support of which the TCT's Chapter 150 Campaign is raising $10 million over the next two years.
By 2017, Alberta's portion of the TCT will be a 3,000-km network of hiking, walking, cycling and paddling routes, linking communities in the busy Edmonton-Calgary corridor and connecting them to neighbouring routes in Saskatchewan, British Columbia and the Northwest Territories.
Building the Canadian Dream
By supporting the TCT locally, David Bissett and his fellow Chapter 150 members from every province and territory are also investing in a national legacy project for Canada's sesquicentennial anniversary in 2017.
"I'm proud to be a Canadian," says Bissett. "I can't think of a better way to celebrate our 150th birthday than cycling the Trans Canada Trail—right here in southern Alberta, or on TCT routes right across the country."
When fully connected, Canada's national Trail will extend approximately 24,000 km, connecting nearly 1,000 Canadian communities from coast to coast to coast.