15 June, 2016
Duffins Creek Rehabilitation Project nears completion thanks to support from HSBC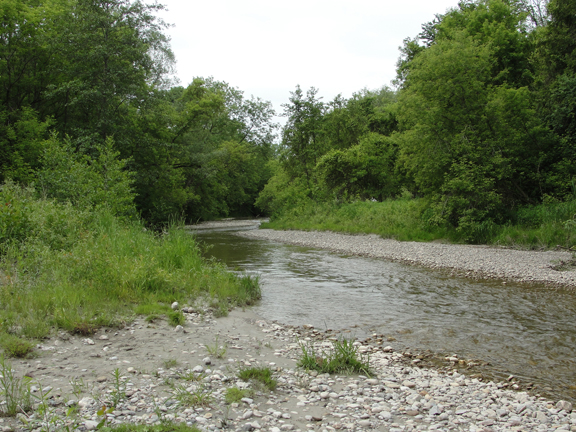 New funding earmarked for trail improvements to meet Accessibility for Ontarians with Disabilities Act (AODA) guidelines, as well as restoration work to protect the endangered Redside Dace fish.
The Duffins Creek Trail Rehabilitation Project (the Project) is one step closer to completion thanks in part to a new $85,000 donation from HSBC Bank Canada. Located in the Greenwood Conservation Lands, Duffins Creek Trail is the final major section needed to connect the Trans Canada Trail (TCT) between Kingston and Toronto's Harbourfront.
HSBC's support will help fund specific design and infrastructure improvements, which will not only decrease erosion, but will also protect the resident Redside Dace fish –an endangered species that is extremely vulnerable to climate change.
Redside Dace are also important to Atlantic Salmon, another sensitive cold water species that is currently being reintroduced to the area. Cold, clear water streams are important to the survival of both species and the trail's restoration, which includes the addition of plantings to ensure appropriate tree cover, will provide a cooler temperature and help both species.
"Not only is this project of great significance for freshwater and habitat protection, it also increases accessibility for people with disabilities. We are so pleased that HSBC is helping to build a safe and sustainable trail," says Valerie Pringle, TCT Foundation Co-Chair. "HSBC's support will also help bridge a major gap in the TCT in Southern Ontario, helping us in our goal of connecting the Trail across the country in time for Canada 150 celebrations in 2017."
Sections of the Trail will meet the Accessibility for Ontarians with Disabilities Act (AODA) guidelines for accessibility on natural surface trails, and planned wayfinding and interpretive signage will support the goal of making this ecologically sensitive area accessible to the public while protecting the watershed.
"At HSBC, we believe our responsibilities extend beyond our customers, shareholders and employees, to the environment and the wider communities where we operate," says Sandra Stuart, President and CEO, HSBC Bank Canada. "The Duffins Creek Trail provides users with access to nature, and raises awareness of the need and importance of environmental stewardship, an area that is important to HSBC globally. We are pleased to partner with the Trans Canada Trail to both protect important ecological features as well as enhance trail accessibility."
HSBC's contribution has leveraged an additional $42,500 from the Government of Canada through its Parks Canada matching grant program for a total of $127,500 in funding for the Duffins Creek Rehabilitation Project. The Project contributes to the Trans Canada Trail's $75 million campaign to achieve 100% connection of the Trans Canada Trail (TCT), the world's longest and grandest recreational trail, coast to coast to coast by Canada's 150th anniversary of Confederation in 2017.
About HSBC Bank Canada
HSBC Bank Canada, a subsidiary of HSBC Holdings plc, is the leading international bank in the country.
We help companies and individuals across Canada to do business and manage their finances internationally through three global business lines: Commercial Banking, Global Banking and Markets, and Retail Banking and Wealth Management. Canada is a priority market for the HSBC Group – one of the world's largest banking and financial services groups with assets of US$2,596bn at 31 March 2016. Linked by advanced technology, HSBC serves customers worldwide through an international network of around 6,000 offices in 71 countries and territories in Europe, Asia, North and Latin America, and the Middle East and North Africa.