28 June, 2018
Generous gift from Enterprise Rent-A-Car Foundation helps to establish first mobility fund for The Great Trail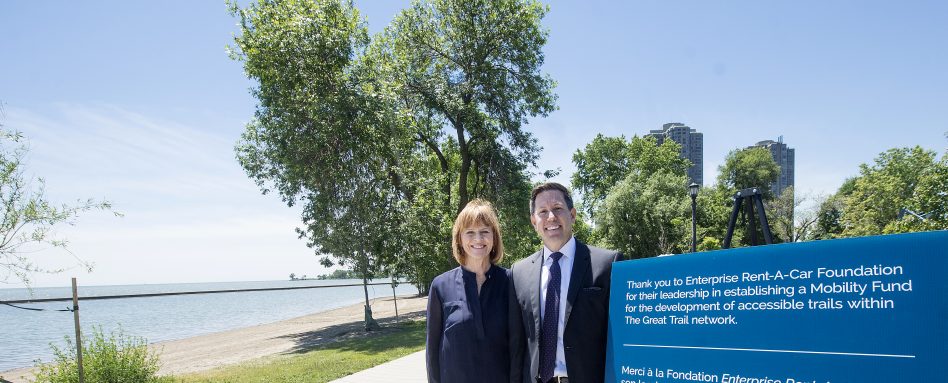 Trans Canada Trail  is excited to announce a $250,000 fund to support the development of accessible sections of The Great Trail, made possible thanks to the generous support of the Enterprise Rent-A-Car Foundation. Enterprise employees, Trail supporters and partners joined TCT to celebrate this fantastic contribution with a special event along the Waterfront Trail, a beautiful section of the Trail in the heart of Toronto. New signage recognizing Enterprise's commitment will be installed at the TCT Pavilion in that area.
"We are very grateful to the Enterprise Rent-A-Car Foundation for their generous gift of $250,000," said Valerie Pringle, Co-Chair of the TCT Foundation Board. "This exceptional contribution will go towards giving Canadians and visitors of different abilities increased access to our country's magnificent landscapes and heritage."
This contribution will establish the Enterprise Mobility Fund, which will help to ensure all Canadians can enjoy the Trail by increasing accessibility across the country.
"Just like Enterprise, The Great Trail is a unique network that connects and strengthens communities," said Steven Tudela, Senior Vice President of Canadian Operations for Enterprise Holdings, which owns the Enterprise Rent-A-Car brand. "That means we're not only operating a key part of Canada's transportation infrastructure, but also helping to make the country's roadways, greenways and waterways even more accessible."
Photos by Jag Photography
As TCT continues to improve Trail sections, we consider the needs of all Trail users. We are focused on enhancing the design and features along our network to make the Trail more accessible for people with various disabilities. This may involve:
Installing guidewires along sections of The Great Trail, which will help Trail users with visual impairments follow the Trail independently.
Upgrading Trail surfaces and developing ramps and boardwalks on various Trail sections to improve the experience of Trail users with limited mobility.
Developing accessible amenities on sections of the Trail for the benefit and comfort of all users.
The Enterprise Mobility Fund will support a myriad of ongoing and future accessibility projects, including:
The development of a two-kilometre accessible greenway between two First Nation communities in Blind River, Ontario, in collaboration with Mississauga First Nation.
Replacing cement barriers with accessible gates on the Beaver River Wetland Trail, Ontario.
Trail accessibility improvements to a section of the Véloroute des Draveurs in Quebec.
Upgrades along the Boivin Creek Trail in British Columbia
The development of a viewing platform with ramp access to allow visitors of varying abilities to access a pond in Glenbow Ranch Provincial Park in Alberta
Enhancements to a section of the Newfoundland T'Railway, which will bring this section to a higher standard and improve accessibility.
This gift from Enterprise comes shortly after TCT launched a new campaign to raise awareness and funds for the Trail over the next four years. This campaign, Deeply Connected, highlights the connection that all Canadians have to the Trail and showcases the ways the Trail can benefit our health, our local economies and our diverse cultures. Details of the campaign and our new Strategic Plan can be found on THIS PAGE.
"The Deeply Connected campaign shows that the Trail is much more than a line on a map – it represents the very best of who we are," said Valerie Pringle. "We will continue to work with Trail groups, Indigenous communities, all levels of government and our supporters, so that our children and grandchildren can enjoy this national treasure."