26 May, 2017
Evening Passeggiata, City of Trail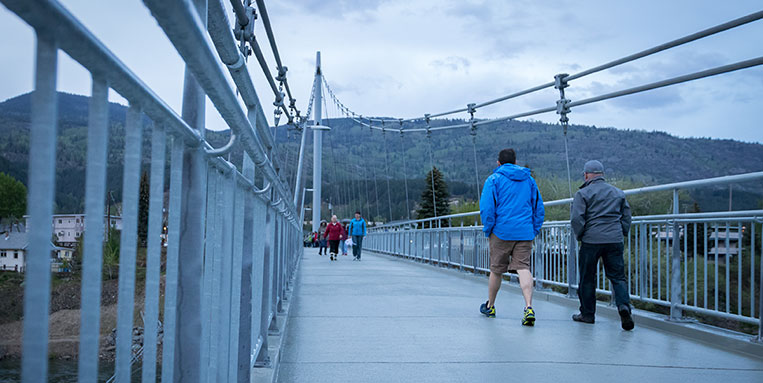 Silver City Days is a 5 day festival that includes entertainment, vendors, events and games in the city of Trail, BC.
This year the festival also included a grand opening for the newly complete Columbia River Skywalk pedestrian bridge (part of The Great Trail) and Trans Canada Trail was invited to participate in the celebration on May 11th. An evening walk with an Italian theme took place (Evening Passeggiata) and hundreds of people walked across the new pedestrian bridge, stopping at the many stations promoting local groups/businesses along the way. Delegates and guest speakers kickstarted the event and Jim Bishop, TCT Board member, spoke of the Trail and complimented the city for the fine work building the skywalk.
This is now one of the longest suspension bridges of its kind in North America at 1000 feet, landing to landing. The walkway, which is also bike-friendly, is 12 ft. wide and is made from a composite material. Total cost of this project was $15.5 million.
All photos by: Klenk Photography