28 February, 2017
Fat Biking — A Pleasant Return to your Childhood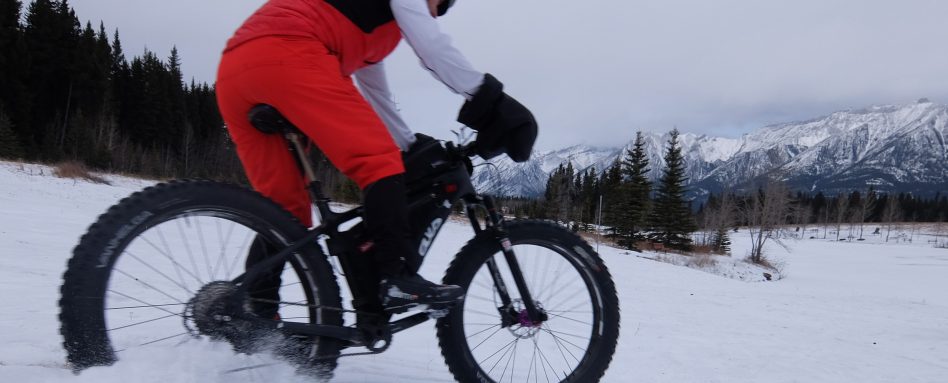 Text by Ryan Draper, photos by Kristen Draper
As far as cyclists go, I'm what you would call a "lifer." I live, eat, breathe, work and play bikes, and I have done so for the past 26 years, with no end in sight. Living in Alberta, with four very distinctive seasons, I was always forced to share my passion for bikes and cycling with other activities. Cold winters would mean endless hours on an indoor stationary bicycle if I wanted my fix, and deep snow would mean snowshoeing or venturing off to the local Nordic ski trails.
Then it happened, it was a cold winter day in 2012, with snow blowing sideways. I was trying to design my next torturous indoor stationary bicycle workout when I discovered fat biking. A fatbike is an off-road bicycle with oversized tires, typically 97 mm or larger designed for riding on soft, unstable terrain, such as sand, bogs, mud, and, you guessed it, snow. A local rider had picked one up in Alaska where they were all the rage, and he let me take it for a short test ride. I was immediately brought back to my childhood. It was like the first time I had taken my two-wheeler down the street, leaving the driveway and house far behind. Smiling from ear to ear, a familiar sense of childlike freedom overtook me. I was hooked and I have never looked back.
Fast forward to the present day — I have logged thousands of kilometres on fat bikes, raced them, hosted hundreds of group rides, packed and groomed trails for many hours, and sold hundreds of fat bikes to individuals seeking that same childhood freedom. I've become a bit of an evangelist for fat biking and I regularly tell people that I train all summer for fat bike season.
When people ask me about fat bikes, I really try and provide them with a balanced perspective. Many experienced cyclists think fat biking is the same as riding a bike in the summer on dirt or roads but this is a far cry from reality. A real less-is-more approach is needed for a successful fat biking experience, and, just like skiing, snow conditions and weather dictate a huge part of the experience.
So, how can you get started on the right foot with fat biking?
My advice would be to rent a fat bike for the first few times. Not all fat bikes are created equal and some just feel better than others. Fat bikes also fall into two main categories: touring and racing; and although you may not see yourself racing on the terrain in your neck of the woods, you may still like the shorter, more playful race-style fat bike.
For your first time, it can also be very helpful to ride with someone who knows the ropes and has experience fat biking, to get help with selecting clothing, setting expectations, assessing the snow conditions and choosing the route for the ride. This can help you avoid getting in over your head or even getting lost on your first fat biking adventure. An all-important tip for new riders is to find a gentle section of The Great Trail in their area, and explore it in all directions. Finding more demanding routes like the High Rockies section of the Trail in Kananaskis Country can provide a challenge for even the most seasoned of fat bikers.

Dressing down for outside temperatures can also be a huge help, since fat biking requires a good amount of physical output, it's easy to overheat, which can lead to getting wet. Since the body loses heat quicker when wet, it's much safer and more comfortable to stay as dry as possible.
On that note, when you're burning up those calories and getting your sweat on, having snacks and hydration on hand is a great idea. A small day pack will allow you to strip off layers during the ride and lets you carry your liquids and snacks without them freezing.
So, it's important to remember that fat biking offers a wide range of varying experiences. The weather, snow conditions, time of day, how you are dressed and the trail you select are just a few of the influencing factors. With that in mind, if you are adaptable and enjoy being active in the fresh winter air, you may just find yourself on a fat bike, reconnecting with your freedom-seeking inner child.