8 December, 2015
Final gap connected in Peterborough TCT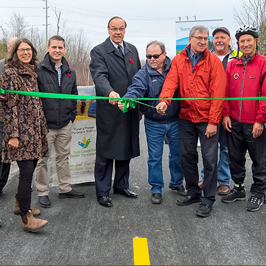 Cutting the ribbon at the opening ceremony on October 24, 2015. Photo: Jim Paré.
Peterborough is located about 125 kilometres northeast of Toronto and is known as the gateway to the Kawarthas, a large recreational region of Ontario and a fitting location for the Trans Canada Trail (TCT). On November 10, the final 1.8-kilometre link of the TCT between the City of Peterborough and the nearby Village of Hastings was officially opened.
A group of officials and members of the public attended the ribbon-cutting ceremony, with remarks by Peterborough Mayor Daryl Bennett, Michael Goodyear, TCT's Trail Development Manager for Eastern Canada, and Barry Diceman of the Peterborough-Hastings Trans Canada Trail Association.
"With the completion of this project, we actually have continuous Trans Canada Trail running from just outside of Kingston to Ajax," said Goodyear during the opening ceremonies. "It's 310 kilometres of connected Trail. That's a very significant feat when you consider all the short sections that have been developed over many years, and the collective effort of many organizations."
The TCT through Peterborough was established in 1995 on old railway bed. To complete the 1.8-kilometre section that opened on November 10, the City received $140,000 in funding from the Pan Am Legacy Fund and $79,000 from TCT.
The TCT in Ontario is currently 73 per cent connected, with roughly 1,300 kilometres left to develop in time for Canada 150 celebrations in 2017.