6 June, 2014
For Sarah McCauley and Oskar Nowicki, life is too short not to blaze Trail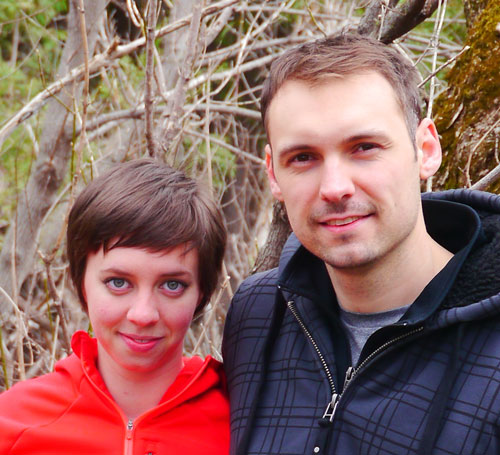 Many people struggle to find the time and motivation in a day to get outside for a few minutes' exercise, so undertaking a journey of 24,000 kilometres–as TCT ambassador Dana Meise has done–might seem downright crazy.
But it turns out his hike has inspired other like-minded adventurers to follow in his footsteps…literally!
"Sometimes we just need a wake-up call, and need to go out there and explore ourselves and nature. I know there is never going to be a better time to do this than now, and the longer we wait in life, the less time we have," said Oskar Nowicki.
He and his partner Sara McCauley are leaving their life behind for 15 months to go on a 12,000 kilometre hike from Inuvik, Northwest Territories, to St. John's, Newfoundland, most of which will be along the Trans Canada Trail.
"We hope that other Canadians who learn about our journey will be inspired to get out more on trails like the TCT and gain a deeper appreciation of nature," says McCauley about the inspiration behind her and Nowicki's decision to undertake this incredible adventure.
McCauley is 24 years old from Brampton, Ontario. Nowicki, 29, was born in Lodz, Poland and moved to Canada in his late teens. The couple currently lives in Sarah's hometown, with their two cats and a husky/wolf mix. Both work in the construction industry.
They also share a passion for the outdoors and nature, the wilder and more rugged the better: from backpacking in the Canadian Shield to canoeing in northern Ontario.
On May 20, 2014, Sarah and Oskar embarked on their adventure, and spent every minute before that in preparation: packing, dehydrating meals and "mentally preparing" for what's ahead. "In my mind, if we both complete the trip and have lived to tell the tale, it will be a success," states McCauley enthusiastically on their blog, which they will be updating as often as possible with photos and stories from the Trail.
Trail-blazing adventures like those of Dana, and Sarah and Oskar might not be for everyone. But the Trans Canada Trail–which runs through nearly 1,000 Canadian communities–is a great way to escape the hustle and bustle, if only for a few moments.
To find the section of TCT nearest you, visit our interactive map.