2 July, 2013
Former TCT chair Sherman Olson passes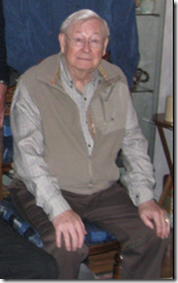 It is with sadness that we inform the TCT and equestrian communities of the passing of Dr. Sherman Oakley Olson on June 9, 2013 at the age of 85.
Mr. Olson was the founding president of the Horse Council of BC from 1980 to 1990, and also served on the board of the Canadian Equestrian Foundation (now Equine Canada) from 1981 to 2003.
His involvement with the Trans Canada Trail began in 1993; he later assumed the responsibility as chair of the TCT board from 1996 to 2003.
His leadership and ability to project to others the great potential of the Trans Canada Trail were instrumental in the development of our great national project.
In particular, Mr. Olson played a pivotal role in the organization of a coast-to-coast-to-coast relay in 2000, in which bottles with water from each of our country's three oceans were carried to the National Capital Region, where they were mixed in a moving ceremony symbolizing "unity, pride, and love for our country."
Thousands of Canadians from communities along the TCT participated.
Mr. Olson will be greatly missed.