28 May, 2008
From the waterfront Harbour Passage to Rockwood Park – celebrating in Saint John, N.B.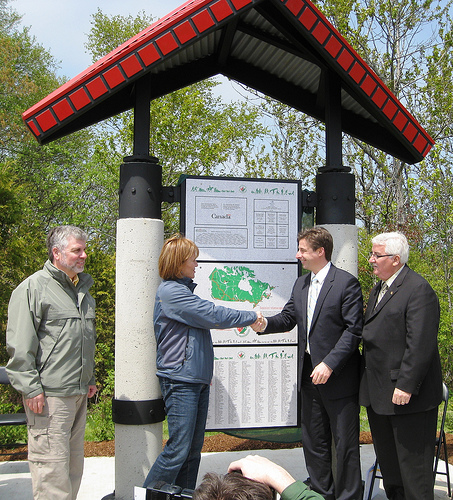 On May 27, the New Brunswick Trails Council Inc and Trans Canada Trail hosted a special ceremony at Rockwood Park for the opening of a new Saint John pavilion and the designation of portions of the park's trails as part of the Trans Canada Trail. Dozens of people watched as Premier Shawn Graham, Mayor Ivan Court and Board Chair Valerie Pringle unveiled the plaques with over a thousand donor names.
The opening was part of a full day of trail events. Three ceremonies were held in the Saint John area to designate the Lower River Passage, Rockwood Park and Harbour Passage as part of the Trans Canada Trail network.
Valerie Pringle launched the day of celebrations with a kayak ride on the newly designated Lower River Passage section of trail, becoming one of only three water routes along the trail in Canada.  The day concluded with a parade down Saint John's waterfront Harbour Passage, led by local skateboarders and Nordic walkers.