19 June, 2012
Governor General commemorates the War of 1812 by cycling the Trail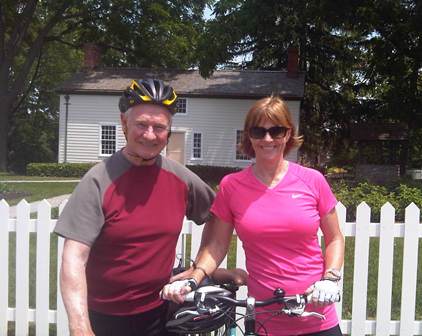 His Excellency the Right Honourable David Johnston, Governor General of Canada, cycled 12 km on the Niagara River Recreational Trail, part of the Trans Canada Trail on Saturday, June 16th. Joining him on the scenic ride from the Laura Secord Homestead to Fort George was our own Valerie Pringle, Co-Chair of the Trans Canada Trail Foundation Board, along with Trail volunteers and cycling enthusiasts from the Niagara Parks Commission.
The bike ride was part of day-long celebrations attended by His Excellency commemorating the Declaration of the War of 1812. The Niagara River Recreation Trail follows what were once the front lines between Canadian, British and American forces and their Aboriginal allies during the war.
The 53-km Niagara River Recreation Trail connects Fort Erie with Fort George in Niagara-on-the-Lake, passing through an area rich in history and magnificent scenery. It is one of 400 trails that make up the Trans Canada Trail network.
This just in! YouTube Video of the Governor General greeting Valerie Pringle and participating riders.