20 June, 2014
Governor General of Canada and Mrs. Sharon Johnston enjoy PEI's Confederation Trail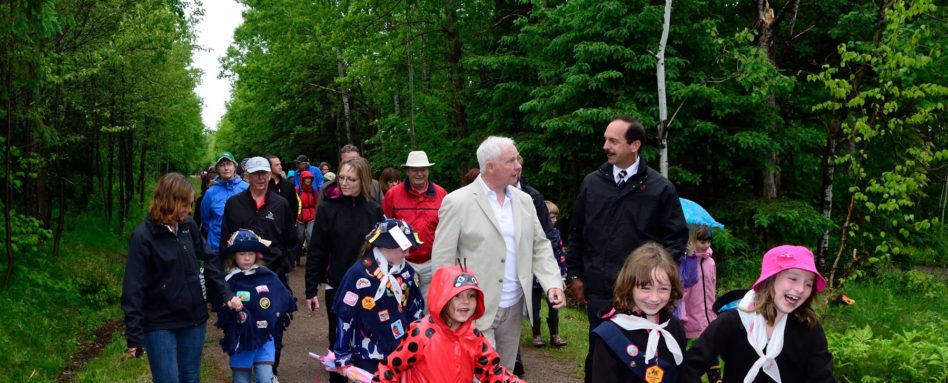 Last Sunday, Trail lovers in Prince Edward Island were treated to a visit by two of the Trans Canada Trail's most passionate supporters.
Their Excellencies the Right Honourable David Johnston, Governor General of Canada, and Mrs. Sharon Johnston joined TCT President & CEO Deborah Apps, alongside recently elected President of Island Trails Cathy Schaap, with board members Doug Murray and Barbara Trainor, and former president Bryson Guptill, for a walk on the TCT Confederation Trail in Montague.
With the enthusiastic support of the First (1st) Montague Sparks and Brownies, their Excellencies planted a red oak tree, the province's official tree, after walking from the intersection of Shaws Lane to the Marina Train Station in Montague.
PEI's Minister of Innovation and Advanced Learning, Allen Roach, the Lieutenant Governor of PEI, the Honourable H. Frank Lewis, and the Mayor of Montague, Richard Collins-one of TCT's newest Municipal Champions-participated, along with many TCT volunteers and community members.
"PEI's Confederation Trail and our province's section of the Trans Canada Trail is a source of pride for Islanders, and we were very pleased to have their Excellencies here to experience part of it for themselves," commented Doug Murray, Island Trails' board member.
Today, the Trans Canada Trail on Prince Edward Island is 93 per cent connected, and PEI will soon be the second province to fully connect its section of the Trail.
The Trans Canada Trail is currently 75 per cent connected across the country. With the support of Canadian volunteers and donors, TCT is dedicated to fully connecting the remaining 5,700 km of Trail by 2017, Canada's 150th birthday.