5 November, 2014
Brand new footbridge on TCT in Thunder Bay, ON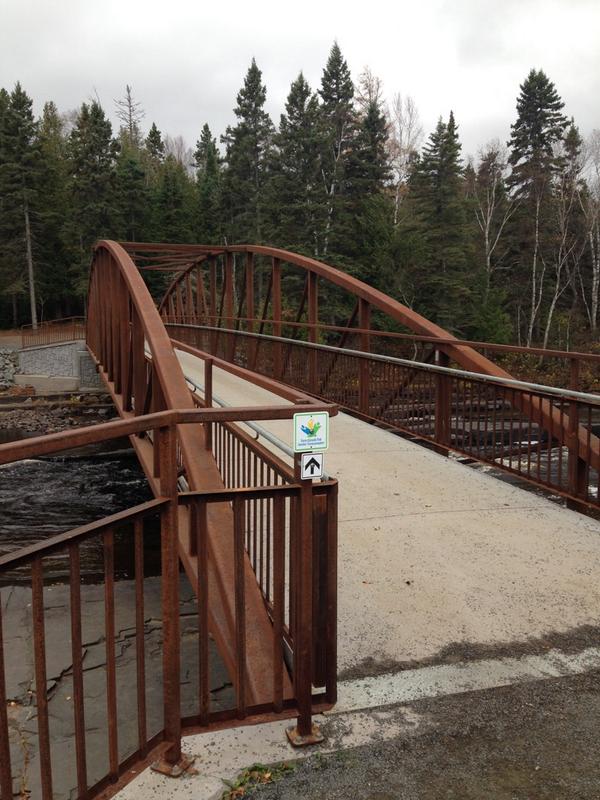 Located in the northwestern region of Ontario—about 700 kilometres west of Sault Ste. Marie and roughly an hour and a half from the American border with Minnesota—is the City of Thunder Bay.
The TCT stretches almost 40 kilometres through the city, along pathways and city streets from north to south via Trowbridge Falls Park, where local Trail supporters gathered on October 17 to celebrate the opening of a new 40-metre pedestrian footbridge.
This new addition to the TCT in Thunder Bay links several important landmarks together: Trowbridge Falls Park to Centennial Park, and Fisherman's Park to the Cascades Conservation Area.
"This new bridge is a beautiful addition to a truly wonderful piece of Thunder Bay parkland," Thunder Bay Mayor Keith Hobbs said at the opening ceremony. "The views here are breathtaking. I wish to extend my sincere thanks to the Trans Canada Trail organization for supporting this project."
"This bridge and these trails are part of our national Trail, and they bring us closer to linking Canadians from coast to coast to coast by 2017," said TCT Board Director and Thunder Bay resident Cameron Clark.
Currently, the province of Ontario is home to almost 3,500 kilometres of Trans Canada Trail. Once fully connected in 2017, Ontario will have the longest section of TCT in Canada, spanning over 5,000 kilometres of urban, rural and wilderness Trail.