10 August, 2016
Great Canadian Donors: Grace and Arnold Rumbold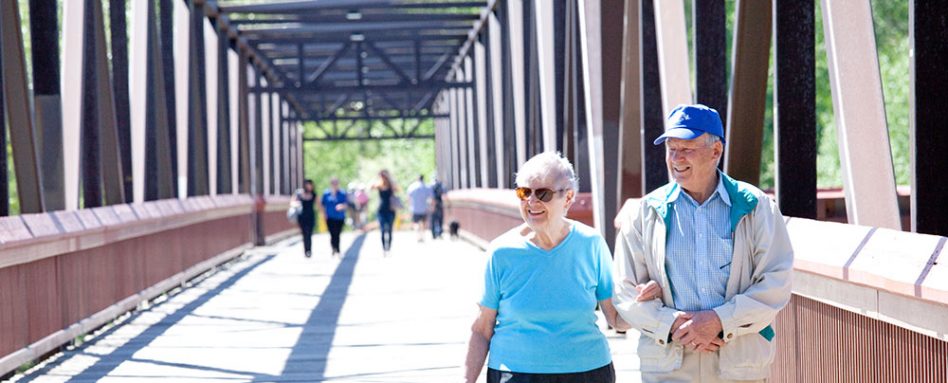 Grace Rumbold has travelled North America, Europe, Australia, New Zealand and Japan with husband Arnold, but she still applauds as the plane touches down in hometown Edmonton.
A first-generation Canadian, Grace has been supporting Trans Canada Trail (TCT) since 1994, inspired by her daughter Kathryn. "She introduced us to the concept of a national trail connecting people and communities across Canada. We just thought it was an excellent idea, one that should be supported," she explains.
Arnold agrees. "We encourage our families and friends to do the same. Our family names are inscribed in TCT pavilions in Edmonton, Calgary (for granddaughter Kristen), Toronto and Burlington, near Hamilton where Kathryn lives with husband Maurice Voss and children Tom and Anne."
The Rumbolds have travelled Canada from St. John's to Victoria, from the Yukon River to Lake Ontario. Wherever they go, Grace says, they seek out sections of The Great Trail. Often in summer you'll find them strolling the urban section of the Trail that runs through Edmonton's North Saskatchewan River valley.
"The Trail's a great place to meet new Canadians out to explore their new country," says Arnold. "A couple of years ago, on a foot bridge, we met a recently married couple from Libya."
The husband had been in Canada for some time, recalls Grace, but the bride had arrived recently. "We had a delightful chat with them as we shared a moment learning of their experiences in coming to live in Canada."