20 January, 2020
Have your say on the future of trails in British Columbia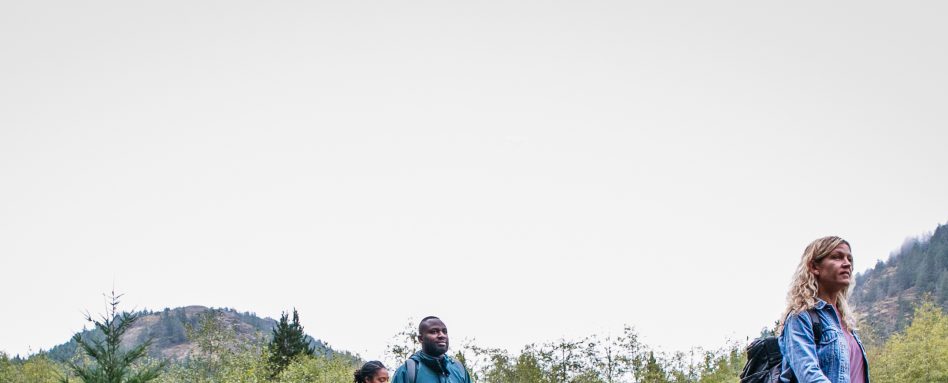 The Government of British Columbia is reviewing its trails strategy and wants to hear from you! The Provincial Trails Strategy for BC was adopted in 2013, and the Province is inviting residents to share their views through an online survey from now until 4 p.m. on February 28, 2020.
This is your moment to let the provincial government know how important greenways, rail trails and active transportation are to Trail users and communities.
In any new trail strategy for British Columbia, Trans Canada Trail wants to see greater value placed on the protection of existing greenways (or non-motorized trails), as well as the development of new ones. We are strongly committed to our greenway vision, which will inform our response to this survey.
Building and maintaining trails for hikers, walkers and cyclists requires significant funds and investment from government and organizations like Trans Canada Trail. Taking the survey is your chance to influence the Province's financial commitment to trails and their future priorities. The more voices that are heard, the better!
What TCT would like to see
A trails strategy that puts the comfort, enjoyment and safety of non-motorized users first
It's crucial for any updated strategy to focus on the safety of non-motorized users. However, recent developments in British Columbia point to a disturbing trend of increased motorized activity along sections of The Great Trail, which could put that safety at risk.
In 2019, we learned that the Columbia and Western Trail could face losing its recreational designation, and that the Town of Princeton would open parts of the KVR within its town boundaries to off-road vehicles in the summer months.
If more and more motorized vehicles are permitted on trails, the safety and comfort of pedestrians, cyclists, hikers and people with limited mobility will be put in jeopardy. If the new provincial strategy places a focus on greenways, the positive experiences of these non-motorized users could be greatly improved.
A trails strategy that protects British Columbia's heritage
British Columbia's trails are a huge part of the province's history – from the first paths forged by Indigenous peoples to the magnificent former railways built by early industry. In short, they are a legacy from the past that we need to preserve for future generations to discover and enjoy.
A number of these trails feature remarkable rail infrastructure and interpretive signage, which we must protect. A trails strategy should help to address severe underfunding in government departments that are responsible for the conservation of historic infrastructure while paving the way to a clear mandate for government to ensure these treasures are safeguarded.
A trails strategy that boosts tourism opportunities
Trails offer everyone the opportunity to get outdoors, explore major cities and rural wilderness, and experience British Columbia's world-famous landscapes and history. British Columbia's non-motorized trails can be considered standalone destinations, and have the potential to be a jewel in the crown of the province's booming tourism sector. However, if medium and long-distance trail systems are given up due to designation changes or lack of maintenance, their benefits to the sector will be lost forever.
Let's not forget that "tourism remains one of B.C.'s largest sectors, contributing as much to the province's GDP as oil and gas, and more than mining, forestry and agriculture", according to a media release from the Government of British Columbia in 2018.
A trails strategy that encourages everyone to embrace active transportation
Increased active transportation has countless benefits – it helps us improves our physical and mental health, reduce our carbon emissions and ground ourselves in the communities we live in.
In 2019, the Government of British Columbia launched a new strategy to boost safe and accessible active transportation throughout the province. The strategy, named Move. Commute. Connect., consulted organizations and individuals across the province to determine its goals, which include:
Doubling the trips taken with active transportation by 2030
Providing incentives that encourage safe active transportation for all ages and abilities
Helping communities build integrated and accessible active transportation systems
Delivering universal design principles for active transportation infrastructure
Adding and maintaining greenways across B.C. is essential to achieving these goals, and we hope to see a new trails strategy that explicitly reflects and supports these objectives.
A trails strategy that protects wildlife and habitats
British Columbia is fortunate to be home to the broadest diversity of wildlife and ecosystems of any province or territory in Canada. In fact, many species in British Columbia are not found anywhere else on the planet!
As the province finalizes its objectives for sustainably managing its wildlife and habitats in the face of the enormous challenges posed by climate change, it is important to note the roles that trails can play.
There is tremendous potential to value well-constructed and maintained non-motorized trails, and their connectivity, as one wildlife management tool, and to integrate the opportunities they present for education, appreciation, protection and wildlife use.
The survey takes approximately 15 to 30 minutes to complete. If you'd like to share the survey link on social media, we invite you to use the hashtag #GreenwaysForGood.