6 October, 2015
Heartfelt Tribute on Cataraqui Trail, Ontario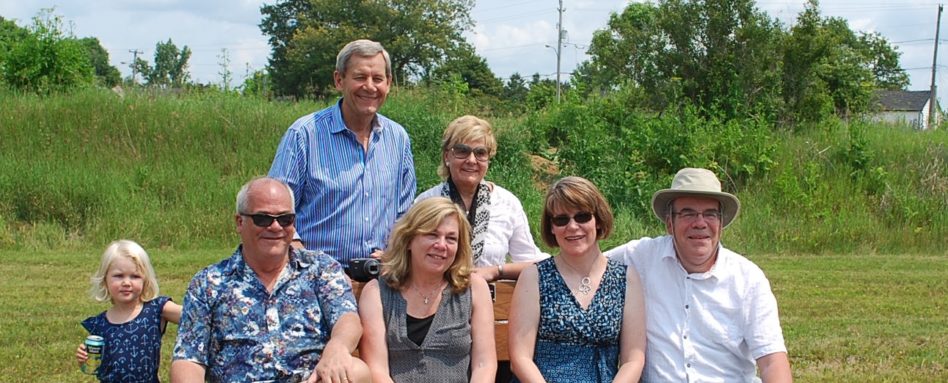 TCT donors Kurt and Marianne Strobele, standing behind the commemorative bench for Dr. Gerald Hatch, upon which the Hatch siblings are seated. Photo: Steve Knechtel
At a touching commemoration ceremony on July 5, TCT Leadership Donors Kurt and Marianne Strobele dedicated a bench and an interpretive panel in honour of their friend, the late Dr. Gerald G. Hatch, DSc, CM (1922 to 2014), an engineer and nation-builder.
This small, private event took place in the hamlet of Harrowsmith, Ontario, a community that came to prominence in the late 1800s as a rail hub for the Kingston & Pembroke Railway (K&P) and the Bay of Quinte Railway.
Today, these former short-line railway lines have been transformed into sections of the Trans Canada Trail—the Frontenac K&P Trail and the Cataraqui Trail—which have now been connected and enhanced through Kurt and Marianne Strobele's generous $100,000 gift to the TCT.
In dedicating a special bench and interpretive panel to Dr. Gerald Hatch, the Strobeles wish to commemorate his contributions to the local community and to Canada's engineering industry. As inscribed on the bench and printed in the information panel, Dr. Hatch was a respected engineer who worked tirelessly to build his engineering firm, Hatch Ltd., into a world leader in the mining, energy and infrastructure sector.
Joining the Strobeles for the unveiling were several generations of the Hatch family, Steve Knechtel, General Manager of the Cataraqui Region Conservation Authority, Anne Marie Young, Manager of Economic Development at the County of Frontenac, and Simone Hicken, TCT's VP Resource Development, who spoke stirringly about the progress of the Trail.
"When we walk on the K&P and Cataraqui Trails, we walk along one of the first transportation routes in this country," said Hicken. "And now, we can marvel at the ingenuity of enterprising Canadians like Dr. Gerald Hatch, a visionary Canadian whose ingenuity and pride helped make our country what it is today. He was a true nation-builder."
Back when Canada was first establishing itself as a nation, the railways delivered a bold and awe-inspiring vision uniting Canadians across the continent. Today, the Trans Canada Trail is well on its way to becoming another great national icon, connecting us to one another and to our past, and reminding us all of our brave Canadian journey.
The TCT is grateful to the Hatch and Strobele families, along with all TCT's supporters and volunteers, for their strong belief in connecting Canada from coast to coast to coast and leaving a proud legacy for future generations.