27 May, 2013
Honorary Trail opening at Rideau Hall and 24 Sussex a resounding success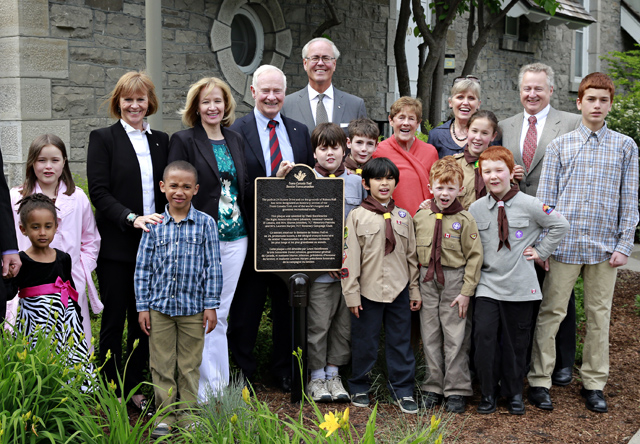 A new honorary section of Trans Canada Trail was officially opened on Friday, May 24, on the grounds of Rideau Hall and at 24 Sussex by Their Excellencies the Right Honourable David Johnston, Governor General of Canada, and Mrs. Sharon Johnston, TCT Honorary Patrons, and Mrs. Laureen Harper, Honorary Chair of the TCT Chapter 150 Campaign.
Almost 100 Canadians, including Boy Scouts and members of the Trans Canada Trail board, were present.
Starting at the Visitor Centre at Rideau Hall, the honorary section of TCT is approximately one kilometre, with a shorter section at 24 Sussex, directly in front of the prime minister's official residence. This new honorary section of the Trans Canada Trail is symbolically linked to the rest of the Trail, which will be fully connected from coast to coast to coast by 2017.
During the official opening, His Excellency thanked volunteers for their tireless work and welcomed visitors to discover the grounds of Rideau Hall by walking the new section of Trail.
"Without pioneers, both past and present, the Trans Canada Trail would not exist, nor would our country be what we recognize it to be today," he said. "That is the gift we continue to enjoy, which is the reason why the completion of the Trail by Canada's 150th birthday in 2017 is such a worthy goal."
The honorary section of TCT takes visitors along the MacKay Walk and passes the Canadian Heritage Garden and the Pool of Unity to the front of the Residence around the Fountain of Hope, which is dedicated to Terry Fox. The Trail returns down the main driveway and past commemorative trees planted by visiting heads of state and dignitaries, towards the Visitor Centre.
"The Trans Canada Trail is a gift from one generation of Canadians to another," Deborah Apps, TCT President & CEO, said. "This honorary section of Trail at Rideau Hall and at 24 Sussex is a testament to our collective love for our land and its importance to who we are as a nation. On behalf of all Trail volunteers past and present, I would like to extend our heartfelt thanks to Their Excellencies and Mrs. Harper for their steadfast support and recognition of the Trans Canada Trail."
The Trail is nearly 17,000 kilometres long and is 72 per cent connected. Currently, 124 volunteer Trail projects are in progress as part of the TCT's goal to connect the Trail from coast to coast to coast by 2017.  Once fully connected, the Trail will stretch almost 24,000 kilometres and will include urban, rural and wilderness trails in every province and territory.