19 June, 2014
It takes a community to build a Trail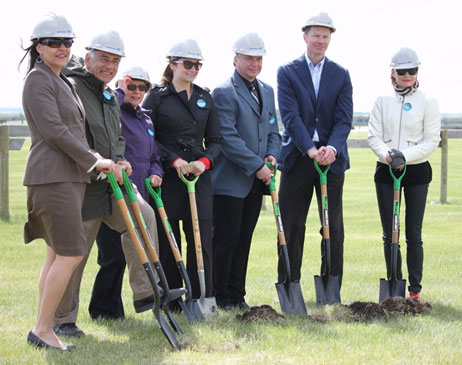 The Saskatoon area is said to have been inhabited for at least 8,000 years. So it comes as no surprise that the city is brimming with a rich culture and history, and many attractions for locals and visitors alike to enjoy, including a section of the Trans Canada Trail, which will soon connect two of the city's landmarks: Meewasin Trail and Wanuskewin Heritage Park.
The former stretches from one end of the city to the other, gently winding along the shores of the South Saskatchewan River. The latter houses some of the most exciting archeological finds in North America, and tells the story of Saskatchewan's First Nations peoples.
These two important sites will now have a physical connection, thanks in part to the Trans Canada Trail. This summer, construction will begin on a section of TCT that will connect Meewasin Trail at 71st Street to Wanuskewin Heritage Park, adding 4.5 kilometres to the existing fifteen kilometres of TCT in and around Saskatoon.
The official sod-turning ceremony took place Friday, June 6, to kick off construction. Lori Leach, TCT board member, was present, alongside other supporters of the project, including PotashCorp, the province of Saskatchewan, the City of Saskatoon, Saskatoon Road Runners Association, Meewasin Valley Authority and Wanuskewin Heritage Park.
This 4.5-kilometre section of Trail is the first phase of a bigger goal, to build a "Destination Trail" from Wanuskewin Heritage Park to Whitecap Dakota First Nation, and eventually perhaps to neighbouring communities such as Martensville and Osler.
"The support of these important community partners is proof that successful Trail building is truly a collaborative endeavour," said Leach, "Local organizations such as the Meewasin Valley Authority are helping to realize the TCT dream of a continuous Trail connecting Canadians from coast to coast to coast."
The Trans Canada Trail is on a bold mission to fully connect our national Trail by 2017, Canada's 150th birthday.