22 June, 2022
Kicking Off on the Trans Canada Trail: Niagara 2022 Canada Summer Games Torch Relay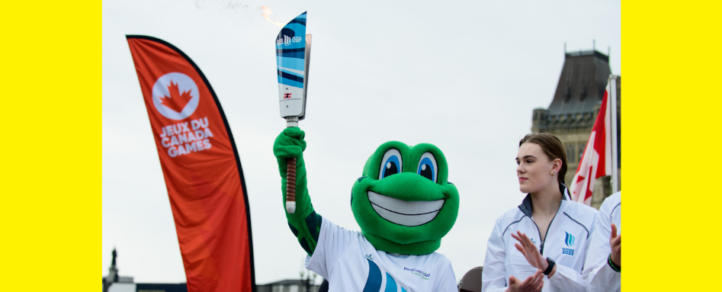 On June 6, the Niagara 2022 Canada Summer Games Torch Relay officially kicked off!
An event was held at Parliament Hill in Ottawa and everyone who attended, in person and online, was welcomed by Eleanor McMahon, President & CEO, Trans Canada Trail and Board Member of the Niagara 2022 Canada Summer Games.
Torch lighting ceremony
The ceremony started with the national anthem, sung by Chorale Lyrica, a choir program made up of children and teens from the region of Hull-Ottawa.
Elder Ross then brought greetings and recognition of the territory.
Eleanor continued the program by introducing and welcoming several speakers, including:
• City of Ottawa Councillor Mathieu Fleury
• The Honourable Pascale St-Onge, Minister of Sport, Government of Canada
• Jim Bradley, Niagara Regional Chair
• Evan Johnston, Chair, Canada Games
• Sam Effah, Sprinter, Canada Games Gold Medallist, and Co-Chef de Mission, Team Canada, 2022 Commonwealth Games
• Doug Hamilton, Board Chair, Niagara 2022 Canada Summer Games
• Louis Martel, President & CEO, Canada Steamship Lines (CSL)
Following the remarks, the Roly McLenahan Canada Games Torch was officially lit from the Centennial Flame by Tristan Thompson (Canada Games 2022 competitor, girls' box lacrosse), Tristan Caldwell (Canada Games 2022 competitor, boys' box lacrosse), and Sam Effah.
A first! The flame travels on the Trans Canada Trail
As part of our 30th anniversary celebrations this year, we were proud to co-host a special leg of the Torch Relay as it makes its way to the opening ceremonies of the Games.
Following the traditional torch-lighting ceremony at the Centennial Flame, the relay followed the Trans Canada Trail in Quebec, with stops in Wakefield, Messines, Mont-Laurier, Mont-Tremblant, Mont-Blanc, Saint-Jérôme and Terrebonne, before arriving in Montreal on Wednesday, June 15.
After arriving in Montreal, it was transferred to the Canada Steamship Lines St-Laurent ship for another historic moment, as the flame was transported via a waterway for the first time.
In total, the flame will complete a 60-day, 1,200 km trek by foot, bike, horseback and boat across 21 communities in Quebec and Ontario, in part via the Trans Canada Trail.
The torch will reach its final destination – the opening ceremonies of the Canada Summer Games – on August 6.  From that day until August 21, the Niagara Region will welcome more than 5,000 participants competing in 18 different sports.

Watch the torch lighting ceremony
Good luck to all the athletes!