28 October, 2022
The Largest Single Investment in the History of Trans Canada Trail has Become a Reality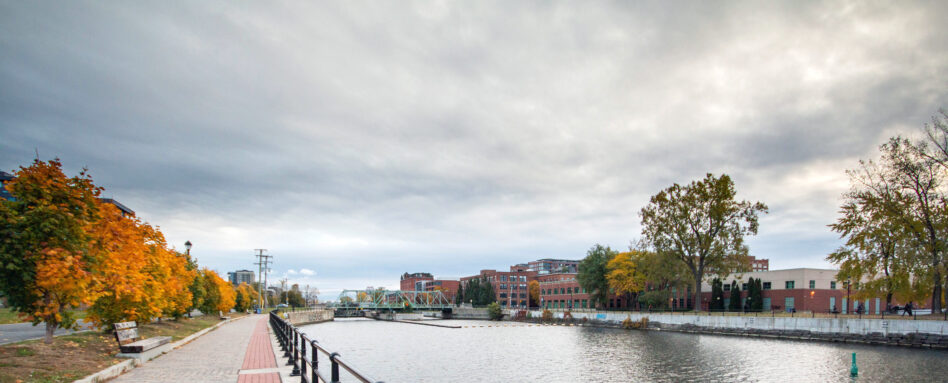 "I'm very excited to announce today that our government is investing $55 million over five years to maintain, enhance and expand the Trans Canada Trail," said the Hon. Steven Guilbeault, Minister of Environment and Climate Change, on October 20, 2022.
With those words, the largest single investment in the history of Trans Canada Trail became a reality.
Honoured beyond measure by this investment
Joining Minister Guilbeault alongside the Trans Canada Trail and Lachine Canal National Historic Site in Montreal were Eleanor McMahon, President and CEO, Trans Canada Trail; Jean-Luc Caillaud, président du Conseil québécois du sentier Transcanadien et directeur général de Rando Québec; and Michael Nadler, Vice-President, External Relations and Visitor Experience, Parks Canada.
"We are thrilled by Minister Guilbeault's recommitment to Trans Canada Trail's annual funding in this year's federal budget," says Eleanor McMahon. "We are honoured beyond measure by this investment – and we look forward to what we can achieve together in the next five years and beyond."
She adds, "As a valued partner to government, we will catalyze Parks Canada's investment to build the Trail of the future, and to help Canada build back post-pandemic, with programs and partnerships designed to deliver on leveraging tourism and economic development, health and wellness, truth and reconciliation opportunities, and the conservation and preservation opportunities that the Trail provides."
Crossing paths with Parks Canada sites
Within its 28,000 kilometre length, the Trans Canada Trail crosses 32 Parks Canada-administered places including: Fundy National Park (New Brunswick), the Rideau Canal National Historic Site (Ontario), Lake Superior National Marine Conservation Area (Ontario), Pukaskwa National Park (Ontario), Lachine Canal National Historic Site (Quebec) and Banff National Park (Alberta).
The Trans Canada Trail is also within one kilometre of 30 additional national historic sites, national parks, and national marine conservation areas administered by Parks Canada.
Long-term benefits for future generations
Minister Guilbeault shares, "The more time we spend outdoors, the more likely we are to conserve and protect nature. As an avid hiker of the trail networks around my home of Montreal or across the country, I know first-hand the health benefits of spending time in nature. With this funding, our Government will ensure the Trans Canada Trail can better connect Canadians to nature, and to each other, from coast to coast to coast for generations to come."